Phil Jackson Done With Lakers After Next Season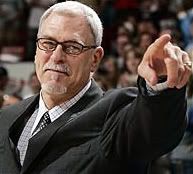 I'm guessing this isn't necessarily at the forefront of Laker fans' minds considering the team went to the finals last year and appear poised for another run this year. Still, despite the strong start and the focus on the matter at hand, what Phil Jackson supposedly dropped in an interview with Magic Johnson will certainly change discussions. From Rotoworld:
Lakers coach Phil Jackson said Friday he plans on retiring after coaching the Lakers next season. "One more year after this one with the Lakers," Jackson told Magic Johnson during an interview that will air during Sunday's game. Jackson had hip replacement surgery two years in a row and needed a walking cane to get around for much of last season.
I'm not sure where that cut came from — maybe it was teased during Friday's Mavericks/Pistons game that was such a blowout I didn't bother watching. The Lakers host the Spurs Sunday on ABC, so I'm guessing that's when all the talk will commence. The big question after that point is pretty clear: who will replace him? The job is appealing for obvious reasons — Kobe and Pau being the most visible ones. It will be hard to imagine Phil walking away without having won a championship since returning to the team and I'm guessing he'd be done for good if he does retire after next season. You think this will spark some "let's win one for the Gipper" behavior amongst the players? Is that why he's dropping this now? Or is he trying to get the ball rolling on a new multi-million dollar contract?