Floyd Mayweather Jr. Did Not Impress Me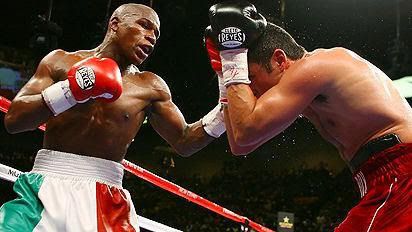 Look, he's supposed to be the best pound-for-pound fighter in the world. He's supposed to come out of fights looking "pretty." He was supposed to show tremendous skill and dismantle Oscar. But I can't help but say that I wasn't at all impressed by Mayweather Jr.'s effort on Saturday night.
I scored the fight 115-113 in favor of Floyd, but that's hardly a convincing margin. In fact, it's not a stretch for me to have seen how others had Oscar winning. I've seen Oscar get embarrassed by Sugar Shane Mosley. I've seen the Golden Boy look foolish against Pernell Whitaker. I've seen De La Hoya get pounded by Bernard Hopkins. But on Saturday night, all I saw was Floyd Mayweather Jr. barely outpoint Oscar (just the outcome I predicted, mind you).
So yes, the margin for the fight was very close. I had Oscar winning the fight early on due to his aggression, dominance, ring presence, and ability to land more powerful combinations. However, the fight completely swung after the 8th round. From that point on, I had Mayweather Jr. winning all the rounds. It's not so much that he closed well, as it was that De La Hoya faded in his typical fashion. Gone were all the combinations and flurries he threw early on. Dead was the intense footwork and exemplary ring control. Oscar lost his advantage.
But I'll say this, I would've liked to see that fight go another three rounds like the old days. Had it gone 15 (as my man GP John suggested), then we could have truly seen a difference in skill, and some separation on the score cards. But as the fight stood, Floyd Mayweather Jr. did not impress me at all.