Manny Pacquiao Plans to Sue one Steroids Accuser but Fight Another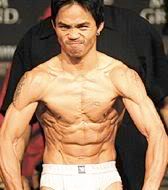 In one of the greatest paradoxes I've seen in sports, Manny Pacquiao and his camp are making making themselves look even worse for their recent decisions. The madness began a few days ago when the agreement between Floyd Mayweather Jr. and Manny Pacquiao to fight on March 13th began to fall through. Pacquiao began backing out of the fight because he didn't want to submit to olympic-style drug testing. Manny's promoter, Bob Arum, then went on a verbal assault trying to come up with every possible angle to spin the reason for why Pacquiao is backing out. Pacman is even going on the offensive now, saying he's going to sue for defamation over the allegations. In the meantime (and this is my favorite part of the story), Arum says he's in the process of arranging a fight with Paulie Malignaggi for the same March 13th date. This is the same Paulie Malignaggi who ALSO accused Pacquiao of using PEDs:
The level we have of testing in boxing is not really that deep. I mean, we have urine tests on the day of the fight and we don't have much else…there's things that don't come up in drug tests. There's ways to beat drug tests.
…
Manny Pacquiao is the first guy in history, and he might be the special thing that everybody says he is, he might be, the first guy in history to go up in weight and knock out more people as he goes up in weight than he did when he was smaller. He might be that special person. Me, I think that looks a little fishy. I think that's a little bit fishy.
So let me get this straight, it's fine to accuse Manny Pacquiao of using steroids or performance-enhancers so long as you don't demand he submits to strict drug testing? Good, just wanted to make sure I had that straight. This should put an end to the debates about Pacquiao and Arum's motive. Manny complaining that having his blood drawn will sap him of his power is like one of those people who claim they can levitate so long as nobody is watching. Uh huh. The onus is on Pacquiao here and he should submit to Olympic-style testing if he has nothing to hide. End of story.