Should College Basketball Change the Free Throw Substitution Rule?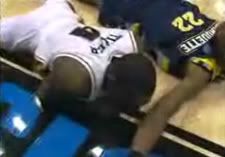 The ending to the Missouri/Marquette game on Sunday was exciting, albeit slightly suspect. With the game tied at 79 in the final minute, J.T. Tiller of Missouri got fouled. He apparently landed on his wrist, making him "unable" to shoot the free throws because of the injury. Per NCAA rules, Missou coach Mike Anderson was able to select anyone off his bench to shoot the free throws. He selected freshman Kim English who made both shots to give the Tigers an 81-79 lead. After a turnover by Marquette and a foul, Leo Lyons made two more free throws to ice the game at 83-79. Had Tiller been unable to shoot the free throws as was indicated when he said his wrist went numb, there would be no problem making the substitution. But Tiller tried to check back into the game after English made the shots and that's where the questions about the legitimacy of the injury come into play.
Now would this really be an issue if English hadn't made the shots? Probably not. It's only because he did that we make a big deal of things. So what do you think? Was it somewhat of an unethical ploy by Anderson to sub in English for the free throws or is that part of the game? What about the rule in general — it protects players from being hacked at the end of games but it also could lead to injuries being faked. Should the rule be amended so only one of the other four players on the floor has to shoot the free throw? I think that would be one of the best solutions to improve the rule. Bottom line though, English still made the shots in crunch time and Lazar Haywood made a dumb turnover for Marquette. The free throw substitution rule was a minor part in the outcome of the game. Very minor.