Clemson Making the West Virginia Mistake with Dabo Swinney?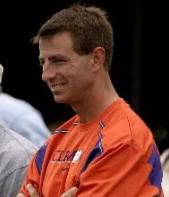 Last year West Virginia found out that Rich Rodriguez was leaving the program to take the job at Michigan. This news was revealed prior to the team's Fiesta Bowl game and assistant head coach Bill Stewart was named the coach for the game. The Mountaineers pulled off a big upset, embarrassing Oklahoma 48-28, and Stewart was immediately named the permanent replacement for Rich Rodriguez. The move was criticized by some of West Virginia's boosters for being an impetuous, emotional hire. Perhaps that sentiment has been manifested in the Mountaineers' semi-disappointing 7-4 season. Clearly Clemson hasn't learned a thing.
The Tigers fired Tommy Bowden mid-season, a move that seemed inevitable following the squad's blowout loss in the opener to Alabama. Clemson went 3-3 before they finally pulled the plug on Bowden, naming assistant Dabo Swinney their interim coach. The team lost their first game under Swinney but wound up going 4-2 with him. Sure, winning at BC looks good, but it seems to me as if the team impetuously rewarded Swinney with the head coaching gig just for scoring an impressive win over rival South Carolina on Saturday.
If you double Swinney's 4-2 half-season, that's 8-4. Bowden was 8-4, 8-5, and 9-4 the last three years. Are they trying to improve the program or just maintain the same levels? Some things just don't make sense. And when Clemson's bitching about their lack of success in the next two years, you'll know why.