Lane Kiffin: We Would Let Team Score Late Touchdown in Close Game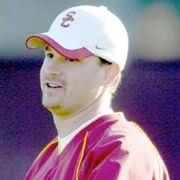 The Sunday and Monday night NFL games this past week were close and featured difficult decisions. One team was deep into its opponents territory and preparing to take the lead (Chicago) or extend the lead (Jets) in the final few minutes. The question was whether the Packers or Dolphins should have played to make stops or let the opposing team score a touchdown while conserving timeouts for a last drive.
My Dad and I agreed that the right move for the Dolphins was to let the Jets score (as Tomlinson did), leaving yourself enough time and timeouts to potentially tie it (which is what happened). Perhaps it would have been wise for Green Bay to employ the same strategy instead of losing on a simple, last-second field goal.
Since it was a topic of discussion on Tuesday, Andrew Siciliano decided to ask Lane Kiffin for his thoughts during an interview with the USC coach on ESPN Radio in Los Angeles. Kiffin says he would generally let the other team score because it gives his team the best chance at victory:
"We have a system that has that in place where you do because it really is your only chance. Unless you feel great about a field goal block or their kicker is not very good, you take that into account. But if they have a good kicker — like everybody in the NFL for the most part — you have a lot of thoughts about letting them score. Your job is to put your team in the best position to win, that's what you're hired to do."
Even though giving an opponent points goes against coaching instinct, it is the right play. Of course you need to have confidence in your offense otherwise playing for the blocked kick or missed field goal might be your best chance, but for most teams, conserving time and setting up for a final drive is the right play. And if Lane Kiffin says so, than it has to be right!