Ohio State Fans Are Pretty Crazy About Buckeyes Football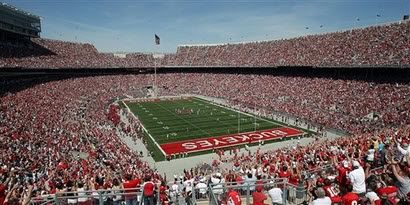 So I realize that I just shared a no-brainer statement there, but something happened Saturday that really turned my head. Nearly 96,000 people showed up to watch Ohio State's spring game — 95,722 to be exact — setting a national spring football record. I got on Alabama fans two springs ago for having 92,000 people show up to their spring game in Nick Saban's first year as head coach. Maybe I'll revise my position slightly from ragging on people who go to spring exhibition games to saying it's just not for me. There was some extra reasons explaining the humongous turnout in Columbus:
The stadium was filled to the top – though not at the capacity levels seen when fans are packed into the bleachers for regular season games.

"A lot had to do with the weather," said Dan Wallenberg, Athletics Department spokesman. "The team also have a significantly different look from last year and people wanted to get a look at that."
Two years later, I guess I'll make more of an apology to Bama fans. Maybe having that sort of passion and excitement for a team is cool. I'm still blown away, nearly 100,000 fans to see a spring game? My goodness. At least they were guaranteed to see Ohio State win a big game, that's always good for something, right?