Is Going to Games Too Expensive?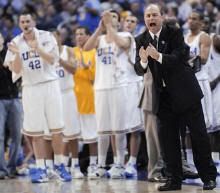 I'm sitting here wondering why my Bruins are about to play their rival and very fine basketball team — the USC Trojans — in the semi-finals of the Pac-10 tournament, and I'm not going. I have the day off from work and actually have the opportunity to watch UCLA play which is rare since their games are usually on Thursdays and either Saturday or Sunday — all days that I work. So why wouldn't I be jumping at the chance to go watch them play? I think there are a few issues at hand. For one, this is only the Pac-10 tournament; it's dumb and unnecessary considering the teams already play a round robin during conference play. Meaning the Pac-10 tourney is solely designed to generate revenue. Give me one other reason why it exists.
My reluctance to attend a Pac-10 tournament event may also be tied to a larger issue: going to games is too expensive. I know this isn't exactly a new issue here — I already shared that it costs around $500 for a family of four to attend a Laker game. But honestly, aren't prices getting a little absurd? Throw in parking and food, and you're talking serious cash. Just going to the ballgame with a family is a good chunk out of the average fan's weekly salary. Is it all just becoming a corporate game where only big companies can afford the tickets? I think so, that's why I'm settling for watching the game on TV.
Now I turn it to you. You're all pretty good sports fans, so how often do you go to games? Is it only worth it to go if you're in premium seats, or are the cheap seats the best deal in the house?