Someone Get Brett Favre on the Phone with J.D. Drew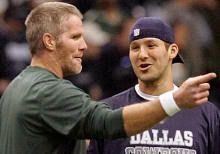 It's amazing what impact the words of a legendary quarterback can have. On Monday the news came out that Tony Romo's broken digit would keep him out 4-5 weeks — enough time to seriously derail the Cowboys chances of a Super Bowl run. The next day we hear that Brett Favre — he of ten thousand straight NFL starts at quarterback — dropped Romo a dime saying he should man up and play through the pinkie injury. Next thing you know, Romo's telling everyone he wants to play and starts throwing in practice. It was quite the turnaround in news and it leaves me with a few questions.
Exactly how did that conversation between Romo and Favre go? "Listen up here, Tony. I know you think you hot **** dating Daisy Dukes and all, but boy, lemme tell you this, if you gonna let a broken bleeping pinkie keep you out an entire month with a team that good, then you don't deserve to be banging that hot piece of ***." It probably was like 90/10 Favre dominating the conversation. I mean seriously, could we get that guy on the phone with J.D. Drew or something? You think Favre has time on his hands to speak with Carl Pavano? He could probably start charging thousands for the minute. If he ever needs something to do when he finally does retire, boy, I think he's set. And it's too bad for Romo, too — dude already had plenty of plans for the month off besides simply recovering.