Chiefs Should Try to Trade Tony Gonzalez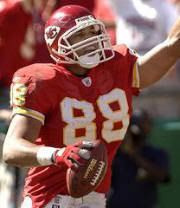 One of the rumors that's been flying the last few days is that Tony Gonzalez has requested a trade from Kansas City, and that one of his potential destinations is the New York Giants. Even though I usually want players to honor their contracts and stick with their teams, I understand Gonzalez's plight, and actually feel the team should try to trade him. First of all, as good as Tony Gonzalez is — one of the best receiving tight ends ever — having him still can't mask the fact that Kansas City's quarterback options are Brodie Croyle, Damon Huard, and Tyler Thigpen. He's doing his best to help this team win, but they just need too many more pieces to become successful in the immediate future.
The bottom line is that the Chiefs are rebuilding and a long way away from contention. Taking the Jared Allen off-season trade as a sign you are rebuilding, why not deal Gonzalez for a 4th round pick or something just to get another selection? How can it hurt you if you're the Chiefs? Shockey warranted a second and fifth round pick before the season, Gonzo's got to be worth a 4th or 5th I would figure. Plus, Tony's already set the record for most receiving yards by a tight end, and he did it all with the Chiefs. What more can he do for the organization? No doubt Tony would like to go to a contender and have a chance of winning a game or two down the stretch. I say they should do it — it will help both parties. Maybe a move to NYC could give Tony an opportunity to meet a new female fan base, too.