Josh McDaniels' Newest Project: Fixing the Broncos' Cafeteria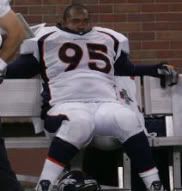 If you were wondering what Josh McDaniels' next big step was as the first-year head coach of the Broncos, we now have the answer. You follow up chasing your franchise quarterback out of town by changing up the team cafeteria! The Denver Post has the details:
Among [McDaniels'] discoveries were that Broncos players collectively lost approximately 450 pounds from the beginning of training camp last year until season's end.

The Broncos have altered the daily menu at Dove Valley and have plans to expand the kitchen.
…
"We addressed the nutrition end of it," McDaniels said after the team's mini-camp workout Sunday. "We want to make sure our players are as healthy and fed as well as we can feed them. We don't want to end up with a different team in December as what we put together in September."
Somewhere Mike Shanahan is reading this and laughing his ass off. I wonder what the league average is for weight loss from beginning to end of a season. Between daily practices and Sunday wars, I can't imagine anyone's gaining weight nor maintaining it. The notable exception of course is the coaching staffs — seems like those guys are putting on pounds by the hour. Call me skeptical, but I'm guessing the Broncos have bigger fish to fry such as fixing that defense and finding a healthy running back.