John Daly on Throwing Up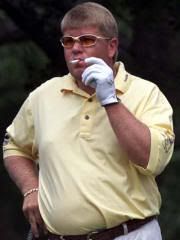 You couldn't possibly find more polar opposites on the golf course than John Daly and Tiger Woods. Woods is athletic, hard-working, and meticulous. Daly is carefree, out-of-shape, and sloppy. Woods gives golfers a good name in the athletic world. Daly single-handedly undoes 10 years of progress in the way golfers are viewed. So when Tiger Woods suggested being in good shape helped him rough the heat at Southern Hills in Oklahoma last weekend, it was no surprise to hear that John Daly was having none of that nonsense.
"Fat boys like me can get through the heat. Every time I worked out I threw up and I thought to myself that you can get drunk and throw up, so it's just not for me.

"I'm flexible enough, there are probably some things I could do to keep my flexibility up, but I'd rather smoke, drink diet Cokes and eat. I get enough exercise walking five or six miles a day."
You know what, there are similarities between the two situations. The more you do of each — drinking and exercising — the harder it becomes to throw up. Who knew? I guess Daly never wanted to get that far with working out.