Four Horses Banned From Olympics Jumping for Doping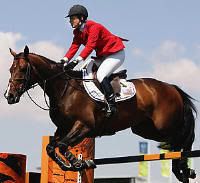 Honestly, horse doping? Are you kidding me? This might be worse than the billiards doping scandal. I'm still uneasy over my conjecture that half the athletes in the games — if not more — are on something illegal. Just read Game of Shadows to answer all your track questions, and take your wildest guess about wrestlers, martial artists, rowers, and basically anything else where additional strength can help you. And as nieve as it sounds, I can't get used to the fact that people would actually be pumping horses with illegal steroids. Gross. But apparently it's happened and caused horses to be kicked out of the games:
Four horses have been banned from competing in Thursday's Olympic Games jumping competition for doping, the International Equestrian Federation (FEI) announced here Thursday. The horses – representing Brazil, Germany, Ireland and Norway – had been suspended after testing positive for a prohibited substance, the FEI, which controls the sport, said in a statement.
…
In its statement, the FEI said the four horses had been "provisionally suspended by the FEI further to doping/medication control tests that indicated the present of capsaicin in each horse".

"Capsaicin is classified as a 'doping' prohibited substance given its hypersensitising properties, and as a 'medication class A' prohibited substance for its pain relieving properties," the statement said.
By the way, these are show horses we're talking about here. Show horses. And who said equestrian was a sport for the classy, the elegant? This is disgusting.