Rays Reliever Joe Nelson Is a Trekkie, Uses Vulcan-Grip Changeup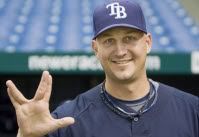 When Joe Nelson was in the minors, his agent supposedly told him that if he ever made it to the majors he'd be a marketer's dream (wasn't Happy Gilmore told the same thing?). While Nelson's been in the majors previously in his career, it took some success for him to finally get some notice. Nelson has a 2.38 ERA in 10 appearances this year with the Rays, and he put together an impressive season last year with the Marlins, allowing just 12 earned runs in 54 innings. Thanks to that success, the Star Trek story could finally be told. His college coach said he needed some sort of split-finger pitch so …
Nelson one day moved the ball to between his middle and ring fingers — "I just jammed it in there one day" — and it worked. He began throwing it regularly at the University of San Francisco and never stopped.

Then, of course, he had to decide what to call it. "Old enough" at 34 to have watched Star Trek TV show reruns in addition to several of the movies, he figured that was the way to go.
Well, it has worked out nicely so far. Now it should be up to that agent to get him in on some advertising deals or guest appearances. I think the Rays should capitalize with a Joe Nelson Star Trek night. Maybe free admission for all those rocking the Spock cut.
(via Fark)