Travis Snider has huge black eye after punch from Martin Maldonado
Travis Snider was sporting a big black eye on Monday, a day after he was ejected for his role in the bench-clearing brawl between his Pittsburgh Pirates and Milwaukee Brewers.
The brawl started when Pirates pitcher (and ex-UCLA Bruin) Gerrit Cole barked at Carlos Gomez for admiring what turned out to be a deep fly ball to center field that went off the wall for a triple instead of a home run.
Snider came off the Pirates' bench and was the guy who got Gomez to the ground during the fight, but it looks like he took his lumps. Brewers catcher Martin Maldonado decked Snider with a pretty massive punch: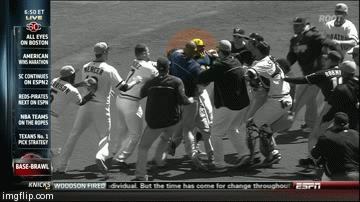 Snider was wearing sunglasses and they probably broke, because he was definitely bleeding afterwards:
Travis Snider didn't even wipe the blood of his face. pic.twitter.com/YjeihBPCjj

— rumbunter (@rumbunter) April 21, 2014
You can see that he has a ring below his eye in the shape of the sunglasses:
He'll probably get hit with a big suspension, but at least he looks like a tough guy for the women. I mean black eyes are hot, right?