UCLA's Basketball Season Just Went from Bad to Even Crappier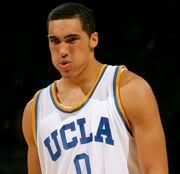 UCLA is 2-4 on the season with losses to local schools reminiscent of the Steve Lavin era. The Bruins lost their opener to Cal State Fullerton, struggled to beat Cal State Bakersfield, and they got obliterated by Portland, whatever that is. After a run of three straight Final Fours, Bruins fans began to be spoiled and wound up disappointed when the team lost to Villanova in the second round last season. If they only knew what laid ahead. Michael Roll is the team's leading scorer while Malcolm Lee appears to be one of the only legitimate playmakers. Things get really brutal after that considering the news that came down Tuesday that big man Drew Gordon would be transferring. Andy Katz explained some of the issues:
According to a source with direct knowledge of the situation, Gordon's conduct was detrimental to the team. He was not viewed as having positive energy in the locker room. Yet, during last weekend's 76 Classic in Anaheim, the UCLA staff said Gordon had to be the focal point offensively in the post.
That's the Howland perspective, I'm guessing. Gordon's mother says Drew's transferring because Howland's style doesn't befit him. All I know is that the players aren't getting it done, regardless of the style. Putting aside that Kansas is coming to Pauley this weekend, almost any opponent on the schedule has to be considered a threat. It's going to be a long, long season for the Bruins. As long as they don't fall behind Oregon State in the cellar I'll be semi-satisfied. I'm glad that Ben Howland asserted himself and reminded everyone that they need to play by his rules (not bigs who bomb three-pointers the way Gordon did). Now Bruins fans need to close their eyes and wait for next year when some of the top recruits will hit campus.