Zach Randolph the NBA's Nate Newton?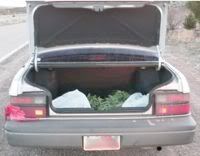 Between his DUI last year, underage drinking, marijuana possession, and multiple other issues when he was in high school, nobody ever accused Zach Randolph of being an altar boy. Until now, nobody ever accused him of being a freaking drug kingpin in Indiana, either. As RTV6 explains via Black Sports Online, there's a lot of mounting evidence against Zebo who's reportedly being investigated for being a major marijuana supplier in Indianapolis:
Narcotics officers were staking out a suspected drug house on Indianapolis' north side two weeks ago when they pulled over Arthur Boyd, 32, soon after he left the residence, near 75th Street and Binford Avenue, police said.

According to the affidavit, the Cadillac Escalade that Boyd was driving was registered to Randolph, and police found marijuana and ammunition stowed inside.

"One of his vehicles had what we call hidden compartments that contained suspected narcotics, that being marijuana," said Lt. Jeff Duhamell.

Based on information found in the Escalade, police later raided a northeast side storage facility, where they said Randolph rents four lockers.
Two of those four lockers were found to have some drugs in it, of course. This all sounds pretty shady to me and I wonder how things went so long before Randolph got implicated. And if you don't think it's possible for Randolph to have been running this weed ring, just recall the case of Michael Vick who was running a dog fighting ring while playing in the NFL. I can't believe the Grizzlies actually plan to support this guy. What are they going to say, Zach didn't know anything about it? Please. If Gilbert Arenas got a year-long suspension for his golden gun, Zebo could be facing a multi-year ban.
Sources:
NBA Player Implicated In Indy Drug Investigation [RTV6 Indianapolis]
Memphis Grizzlies' Zach Randolph Implicated in Major Drug Investigation [Black Sports Online]