Michael Clarett Mexico Vick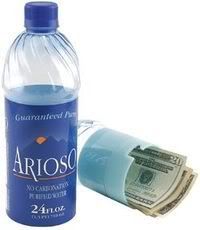 As if the Mexico Vick family didn't have enough problems already you know, between herpes, intimidating little kids, allegedly having sex with little kids, reckless driving, stomping on opposing players, and getting kicked off teams, we now have this gem of a story. Falcons QB, the highest paid player in the NFL, had a water bottle confiscated from him at the Miami International Airport on Wednesday: 
"According to the police report, Vick drew suspicion when he refused to part with a bottle of water at a security-screening checkpoint.  Vick eventually threw the bottle in a waste container but his initial reluctance caused TSA official Gertrude Joseph to examine the bottle, described as a 20-ounce Aquafina bottle. Joseph then notified her supervisor of a hidden compartment in the bottle.  The bottle contained a secret compartment that allegedly held "a dark particulate," according to the police report. It said the substance smelled like marijuana.  The bottle was taken to the Miami-Dade Police Department crime lab."
Here's the police report if you want to check it out.  Apparently Marcus is rubbing off on Michael pretty well.  For that matter, Michael must be getting liquid storage tips from Maurice Clarett.  Secret compartments to store marijuana in a water bottle? OK James Bond.  As my buddy said, maybe they should ship him off to Oakland so he can blaze with Randy Moss.  Better yet, someone send this man a plane ticket to Toronto so he can share bong rips with Ricky.