The Golden State Warriors have already engaged in plenty of trash talk with Drake after just one game of the NBA Finals, and Stephen Curry's wife Ayesha appears to be getting in on the fun as well.
Drake got into a friendly back-and-forth with Curry during the Toronto Raptors' Game 1 win, and the rapper picked a piece of lint out of Curry's hair during the exchange. He then trolled Curry over it on Instagram and said he is selling the lint on eBay.
Ayesha later chimed in by suggesting a charitable organization to donate the proceeds to:
LMAOO. Ayesha aint playin with Drake. 😂 pic.twitter.com/bjpT8Pc2tS

— Ly vely (@llYXEN) June 1, 2019
We're guessing Drake loves every second of it. In fact, there has been some talk that he may have given Curry a subtle zing through Ayesha's Instagram page when he liked the following photo of Mrs. Curry:
Drake likes Ayesha Curry's photo 👀 pic.twitter.com/RgYPEN94u8

— Rap Spotlights (@RSpotlights) June 1, 2019
Ayesha infamously said recently that she is jealous of all the female attention Steph gets and she feels like it has been years since she got similar attention from men.
Of course, all of this is in good fun. Drake actually has a good relationship with Curry and several Warriors players, and there's no better evidence of that than the tattoos he covered up for Game 1.
Drake continues to be one of the best parts about the NBA Finals. Not only did he trash-talk Draymond Green after his Toronto Raptors beat the Golden State Warriors 118-109, but he also trolled Steph Curry.
Drake got in Curry's face during Game 1 of the series at Scotiabank Arena on Thursday night. During their exchange, Drake picked some lint out of Curry's hair. He then made reference to it with a funny Instagram post after the game.
Drake claimed he was going to sell the piece of lint on eBay, and then he trolled Draymond with his fake usernmame.
"Steph Curry hair lint for sale on my eBay right now!!! username: DraymondShouldntWear23" was Drake's caption.
The jab about Draymond is for him wearing the same number as Michael Jordan.
Some of Drake's antics for Game 1 included wearing a Dell Curry Raptors jersey, getting in the exchange with Curry, messing with Klay Thompson over "Hotline Bling", trash talking Green, and then trolling Curry and Green with the Instagram post. This guy is unstoppable.
The NBA Finals matchup is finally set, and it provides an intriguing matchup between the ultra-experienced Golden State Warriors and a Toronto Raptors team that has finally broken through after running into multiple LeBron James-shaped walls in previous attempts. There's certainly an experience gap and, at least at the top levels, a talent gap between these two teams. But this is not a slam dunk for Golden State by any measure.
Which players will step up for each team? Here are the ten players who will likely decide which team can claim the NBA title this season.
10. Andre Iguodala, Warriors
Iguodala is expected to play in Game 1 despite a calf injury. While he's certainly not Golden State's biggest star, he probably profiles as the team's most important role player. His defensive play in Game 2 against Portland was one of the biggest moments of the Western Conference Finals. Iguodala isn't a huge scorer, but he's a quality defender and one of the prototypical glue guys that teams like Golden State need. Expect him to get some key defensive assignments against Toronto.
Stephen Curry and his Golden State Warriors prevailed in their Western Conference finals matchup with Seth Curry and his Portland Trail Blazers as expected. Though the Warriors are returning to the NBA Finals and Seth is going home, Steph feels his brother made a statement during the series.
Asked after Golden State won 119-117 in overtime of Game 4 on Monday night to sweep the series, Steph shared his message for Seth.
"Somebody had to lose but this is just the beginning for him and his career in terms of being on this stage. He's proved to a lot of people that no only does he belong, but he can play big minutes in playoff games," Steph told ESPN's Doris Burke. "We'll remember this for the rest of our lives and for our family back at home watching. This is what it's all about."
Seth went undrafted out of college, barely played over his first three seasons in the league, spent a season out of the league, and then signed with Portland and proved he can contribute. His biggest contribution came guarding his brother in the series; he had seven steals including four in Game 2, and talked some trash to Steph.
Golden State moves on to their fifth straight Finals, while Portland goes home after their best season since 2000.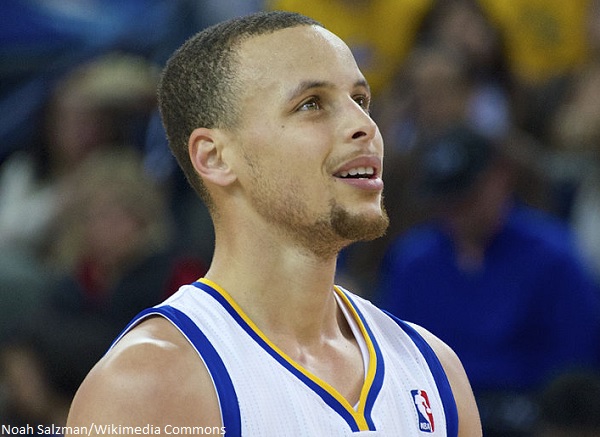 When Seth Curry was trying to rattle his older brother Stephen to make him miss a free throw late in Game 2 of the Western Conference Finals on Thursday, he was basically attempting the impossible.
Steph Curry strutted to the foul line in a tie game with just over two minutes remaining, and he made three crucial free throws that gave the Golden State Warriors a 111-108 lead. Had he missed one of them, it would have been the first time he missed a free throw in a situation like that in four years. Check out this insane stat from ESPN:
Steph Curry has made 79 straight free throws in the 4th quarter or OT in the postseason.

He hasn't missed one since the 2015 NBA Finals. Clutch 🔥 #SCFacts pic.twitter.com/nOKjEXd153

— SportsCenter (@SportsCenter) May 17, 2019
That's right, Stephen Curry has not missed a free throw in the fourth quarter or overtime of a playoff game in 79 consecutive attempts. He is already the best free throw shooter in NBA history with a conversion rate of 90.47 percent, but the two-time MVP is somehow even better when the stakes are highest.
Now we have a better idea of why Seth was unable to get into Steph's head with what he said to him during Game 2. The guy just doesn't feel the pressure when he's standing at the charity stripe.
By the numbers, Stephen Curry is currently the greatest free throw shooter in the history of the NBA. His 90.47 percent conversion rate places him first all time among active and retired players, and that part of his game has been as good as it gets during the postseason this year.
And there's nothing his younger brother Seth can do about it.
Steph stepped to the free throw line to shoot three free throws with 2:01 left in Game 2 of the Western Conference Finals between the Warriors and Trail Blazers. Before he hit all three to give Golden State a 111-108 lead, the two-time NBA MVP had some sort of exchange with Seth.
Seth Curry tries to get in Steph Curry's head by talking trash to him at the FT line pic.twitter.com/6vlho8lgO3

— gifdsports (@gifdsports) May 17, 2019
Following the game, Seth admitted he was trying to get in Steph's head. The younger Curry commented after the first free throw that his older brother had made "70 in a row," and Steph had a great response.
"I was trying to get in his head and jinx him," Seth said, per ESPN's Ramona Shelburne. "He looked over at me and said, 'OK, now it's gonna be 72.' And then he made them both."
For what it's worth, Stephen has now made 30 straight free throws. He saw a previous career-best streak of 43 in a row snapped during Game 3 of the Western Conference semifinals against the Houston Rockets.
While the Blazers appear to be overmatched against Golden State as expected, Steph Curry looks like he is having fun going against his brother. He tried to explain some of the awkwardness that goes along with that after Game 2.
Stephen Curry and his younger brother Seth have made history this postseason by becoming the first pair of brothers to face one another in an NBA conference finals series, but Draymond Green has much bigger things to concern himself with than that storyline.
Both Steph and Seth played significant roles in the Golden State Warriors' win over the Portland Trail Blazers in Game 2 Thursday night, with Stephen scoring a game-high 37 points and Seth contributing 16 off the bench. Green said that must be fun for the Curry family, but it means very little to him.
#Warriors Draymond Green's thoughts on the Steph and Seth dynamic in the Western Conference Finals says it's amazing for their parents and can't imagine what's that like. "Me on the outside looking in, I don't really give a damn."

— Mindi Bach (@MindiABC7) May 17, 2019
You can understand where Green is coming from, as he's trying to help the Warriors win their third consecutive title. Klay Thompson made a similar remark when reporters asked him about the battle between the Curry brothers.
Reporter to Klay Thompson: "You had a front-row seat for the competition between Steph and Seth Curry…"

Thompson: "I wouldn't call it a front-row seat. I was kind of out there playing."

— Phil Barber (@Skinny_Post) May 17, 2019
Stephen Curry tried his best to describe the "weird" feeling he has going against his brother, but he probably prefers that his teammates not get too wrapped up in it. At the end of the day, he wants to win another title. Focusing attention on the Steph vs. Seth storyline would be a waste of time for Golden State players.
pixel2