Could the Angels Conceivably Sue Gary Matthews Jr. for a Misleading Contract?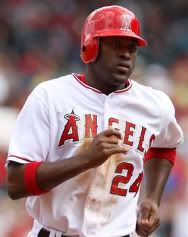 Based on the logic that I will use here, this situation wouldn't be at all unique to the Angels. I guess what I'm really asking is if a team could sue to reclaim money from a player if the contract was paid based on past accomplishments that were later determined to be performance-enhancing drugs-based. Taking Gary Matthews Jr. as the perfect example, I cringed when the Angels signed him a few years ago. It was no surprise to then see his name linked with a steroids raid in '07. Alan commented on that article perfectly by saying "In about two years, maybe next year even, we'll be wondering who the 35-year old, $10 million guy sitting on the Angels bench is." Well, two years later he was exactly right — Matthews is on the Angels' bench not as the backup, but as the fifth freaking outfielder! And he's not at all happy about it:
Told in a meeting with Manager Mike Scioscia and General Manager Tony Reagins that he would begin this season as the Angels' fifth outfielder, Matthews did not take the news very well.

Instead of traveling with the team to play the Texas Rangers in Surprise, Ariz., Matthews asked for and received permission to take the day off, a 24-hour cooling-off period apparently necessary.
Obviously teams would love to get some money back for bad signings of the past but that isn't exactly realistic. Still, the Falcons were able to sue Michael Vick and reclaim some of his signing bonus. Why shouldn't teams be able to reclaim money from players who performed one way while they were using illegal drugs and got paid based on that, then sucked once they stopped using? Matthews Jr. would be an excellent starting point for the Angels. Guys like Eric Gagne, Paul Lo Duca, and Miguel Tejada seem like they could also fit into the same category. Or maybe I'm just bitter because I knew from the start that 5-years and $55 million was absurd for Gary Matthews Jr. Still, there's no doubt that Bill Stoneman was "had" by Sarge Jr.