Do Not Borrow Hideki Matsui's Glove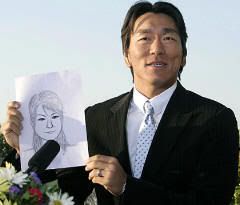 I'm not exactly sure whether or not this is public knowledge, but it's news to me. Sports by Brooks points me to a 2003 article with Time Magazine in which Hideki Matsui tells of his extra-curricular activities, shall we say. Being about as honest as someone can be, here's what he's said:
Instructed to stay in the team dormitory and refrain from dating during the first several years of his career, so as to devote all his concentration solely to baseball, Matsui agreeably complied, without so much as a whimper. Indeed, his only eccentricity, if it can be called that, is his extensive private library of adult videos. His refreshing ability to laugh self-deprecatingly about his porno collection, reporters say, is one reason why fans and even nonfans have taken to him so much.
Maybe they're just hoping he'll loan them a flick or two. And according to a profile from SI, Matsui has 55,000 items in his adult entertainment collection. Dude's a walking hustler store. And all this time I thought Matsui had no personality … what was I thinking. Man, no wonder he was so disappointed the year he broke his wrist …