Citi Field's Large Dimensions Are in David Wright's Head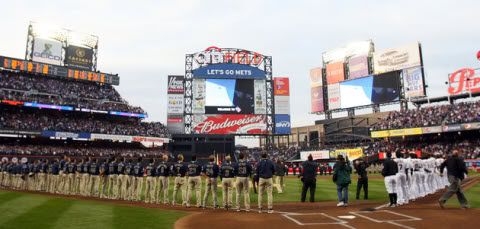 The first problems we discussed about the new Mets Citi Field related to the lack of hot water in the visiting clubhouse. Now about 55 games into the season, you figure the problem's been worked out. While that issue was an easy fix, there's one that seems likely to be here for good: the large dimensions. The pitcher-friendly confines seem to be an issue for Mets players, specifically David Wright, as told by Chipper Jones:
"It is the biggest park that I have ever played in in my life," Jones told the show "Ripken Baseball" on Sirius XM Radio. "It is a huge ballpark to center and right center and right field. You know, I actually feel sort of sorry for some of the guys out there because their power numbers are really going to take a hit; guys like David Wright, [Carlos] Beltran, [Carlos] Delgado. The days of them hitting 35, 40 homers — they're over."
…
"I juiced the ball just right of center field as hard as the good Lord can let me hit a ball, and it hit midways up the center-field wall for a double," he said. "And every time there was a long fly out or a double that hit off the wall or something, David Wright would run by me and go, 'Nice park.'
While Wright (and Chipper) may be bitching about the dimensions, the numbers would actually tell a story that makes you think they have a home field advantage. The Mets are 18-9 at home which is one of the best marks in the league. They've also hit 21 home runs in only 27 home games compared to 16 homers in 30 road games. The team's slugging percentage is also higher at home (.435) than it is on the road (.390). As far as Reyes and Delgado's numbers go, newsflash for Chipper but their stats are down because they've both been injured this year. Thing about it is just like I said in the headline, the dimensions are in Wright's head: he's hitting .413 with an OPS of 1.090 on the road while he's just hitting .280 and .833 at home. Also, his 3:1 strikeouts to walk ratio at home makes me think the park is messing with his approach considering he walks more than he strikes out on the road. He's definitely suffering from the Petco Park effect.