Could Ryan Braun Win ROY AND MVP?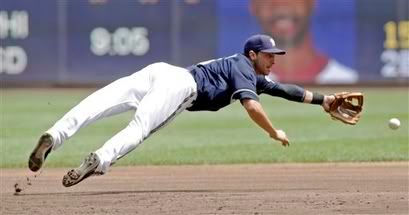 (AP Photo/Darren Hauck)
I guess I haven't quite touched on the depths of my attachment to one Mr. Ryan Braun, rookie third baseman of the Brewers. See, Ryan is probably the trunk of the far-reaching San Fernando Valley baseball tree through which I am connected to several current major leaguers. I was a year ahead of him in school, and pitched against him when his name topped several city statistical categories. As an 11th grader, Ryan could crush a fastball, but he really hadn't seen too many good breaking balls. Being the junk baller that I was, I gave him a steady diet of the slow stuff, causing him to take an ofer against me — 0-for-4 without hitting a ball out of the infield. Clearly, I will be rooting for Ryan to have a Hall of Fame career; the better he does, the better I look, and the more I'll be able to brag about my Al Bundy-like moment. Now that I have gotten my disclaimer out of the way, onto the actual baseball analysis.
There is no player in the NL dominating offensively as much as guys like A-Rod, Magglio, and Morneau are in the AL. Furthermore, none of the current above .500 teams in the NL have any one single offensive stud that is carrying the team. Team-by-team, the MVPs are probably Jose Reyes, Chipper Jones, Chase Utley, Aramis Ramirez, Russell Martin, Eric Byrnes, and Chris Young (the pitcher). Which brings me to the first place team in the Central — the Brewers.
There was a point in late May/early June when Milwaukee began to sputter. It was around that time when JJ Hardy started to cool off offensively, Rickie Weeks was hurt, and the dynamite platoon of Craig Counsell and Tony Graffanino fizzled. Enter top prospect, Ryan Braun. Since being called up, Braun has posted Pujols-like rookie numbers. He's batting .345, slugging .670, and OPSing 1.062. He has 16 home runs, 43 runs scored and 43 RBIs in just 51 games. He's also stolen 8 bases for good measure. Sure, his defense has been spotty, but his studly offensive has more than made up for the fielding woes.
With 63 more games left on the Brewers' schedule, Ryan has the chance to put together a pretty complete season. If he keeps this pace up, he'll wind up with a 30-home run season, all the while carrying the Brewers offense. If they're able to hold the Cubs off in the division with Braun continuing to carry the offensive load, then not only will he be the runaway Rookie of the Year (which he's already locked up now that Hunter Pence is hurt), but he will be a top MVP candidate. Amen for the Jewish brethren.
Also check out all my other 2007 baseball predictions.