Ichiro Suzuki Climbs Wall Spiderman Style to Try and Rob Angels Home Run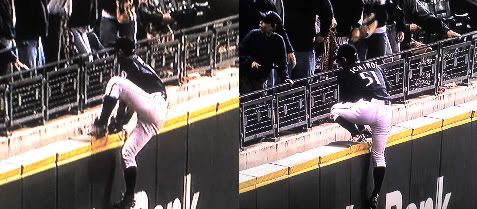 Ichiro Suzuki is no stranger to great plays in the field. He can impress you with his cannon arm or his brilliant catches as he's shown time and time again. Just a few years ago in Seattle, Ichiro climbed the right field wall to rob Garret Anderson of a home run (catch is at the end of that video). On Monday night, he tried to one-up that catch when Kendry Morales launched one deep to the right field stands. Check it out (apologies for the weak camera phone vid):
The ball sails clear out of the stadium, but I'm telling you, one of these days he's going to jump on top of that wall to rob one. I can't wait for that to happen. And apologies in advance to the slugger who loses a home run because of it.