Joel Hanrahan Gets Credit for the Win Without Even Pitching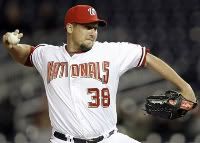 Mark this down as a "first" for Joel Hanrahan to be mentioned here at LBS. Maybe if he did a white olympics video we'd have reason to write about him other than this. Anyway, the Nats and Astros continued a game on Thursday evening that was postponed from May 5th. The game was tied at 10 in the 11th inning when they resumed the action on July 9th. A couple of things — the Nats have made quite a few roster moves since May 5th meaning guys could participate in the completion of the game even if they were on a different team at the time the game began. Or in Hanrahan's case, be on a different team when the game was completed.
And so it was that Hanrahan was the pitcher of record when the Nats scored in the bottom of the 11th to win 11-10, giving Hanrahan the win. Thing is Hanrahan was traded to the Pirates recently in a deal that also involved Lastings Milledge and Nyjer Morgan, so he was just enjoying his day off while his stats got inflated. Hanrahan told ESPN in a phone interview that he was taking a nap and when he woke up he had like 7 or 8 texts sending him congratulations for the win. Most of them must have come from his former teammates since they also sent him good luck messages prior to the re-start of the game. Freakin Nats only have 25 wins on the season and one of them comes from a guy not even on the team!