MLB Strikes Out Running Opening Day Opposite National Championship Game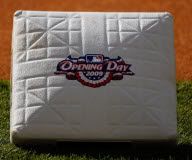 My freaking head was spinning on Monday because there was so much to do. There was the NCAA title game to prepare for, not to mention countless Opening Day games in baseball. ESPN had wall-to-wall coverage, televising a handful of these events. It was quite pleasing to see that many baseball games on TV without even needing the Extra Innings package. Even though this sounds all great and wonderful, there were some issues. Here's one: the last game of the night on ESPN's lineup was the A's and Angels. Being a pretty hard-core Angels fan who watches most of their games, I typically would be stoked for Opening Day. Major problem — the game started at 6pm PT and ran opposite the title game. Even though the championship game was basically over in the first five minutes, it was still pretty difficult to turn off. Additionally, there were no NBA games played on Monday night. Even The Association is wise enough to concede the night to college hoops, realizing the title game grabs the attention of most basketball fans.
Someone please explain to me why MLB just didn't wait until Tuesday to kick off the season. Do they really like having the first game of the season get pushed to the second page in every local newspaper because of North Carolina? Do they not have more common sense than this? As if scheduling opening day opposite the championship game weren't enough, MLB leaves you with another list of mind-boggling questions. For instance, what is baseball still doing scheduling games to be played in cities like Boston, Chicago, and Cincinnati at the beginning of April where they get snowed and rained out? Why wouldn't you have the first two weeks of the season be played either in the South, on the West Coast, or indoors? And while we're on the subject, the season should start two weeks later than it does and end two weeks earlier. The World Series in November? Are you kidding me? I sure hope Bud Selig is reading this. To think he gets paid multi-millions to make these bonehead decisions. My goodness.