Government Says Barry Bonds Failed Steroids Test in 2001, Correction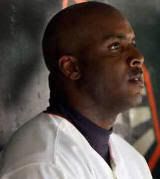 Big news in the world of baseball since this is the first time I've seen a report that … Barry Bonds failed a steroids test in 2001, the year he broke the homerun record. We knew he admitted to using steroids just never knowingly, but this is the first I've seen him failing one right after he broke the freaking record, if that doesn't say enough for you.
"At trial, the government's evidence will show that Bonds received steroids from Anderson in the period before the November 2001 positive drug test, and that evidence raises the inference that Anderson gave Bonds the steroids that caused him to test positive in November 2001," U.S. Attorney Joseph Russoniello wrote.
I guess we know why the feds extended their pursuit of the case over the summer. This sort of evidence definitely helps when you're pursuing a perjury charge.
UPDATE: Now I know why I hadn't seen the report of the 2001 failed test, it's because this Reuters report was based on a typo, and really the failed test was from November 2000, as previously reported.