Sergio Mitre Hurt During Batting Practice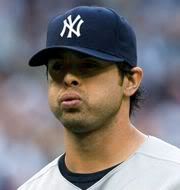 I find it so fascinating the way many pitchers are unable to function on a normal level like the rest of us. A few weeks ago, in light of Josh Beckett's back injury caused while swinging, we noted all the pitchers who had been injured while swinging the bat. Looks like we can add another clown to this list (and I say "clown" with all due respect). Yankees pitcher Sergio Mitre injured his oblique and wound up being placed on the disabled list Tuesday as a result.
Mitre was swinging during batting practice over the weekend, trying to put on a show. In between his home runs, he told his teammates with a wink, "chicks dig the long ball." Okay, he didn't really say that, but he was proud of himself for belting the ball out of the park consistently. It wasn't until after the round when he started to throw in the bullpen that he realized the damage he had done. Apparently manager Joe Girardi cited Mitre's case as an example of the hazards of Interleague Play. I have a better idea. Why don't pitchers try and swing a bat without getting hurt, you know, like the rest of us. This is absurd. I hope the BP show was worthwhile.
Sources:
BP display proves costly for Mitre [MLB.com]