Tim Tebow Can Mash Too?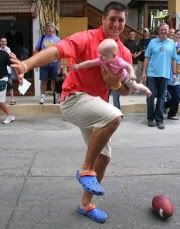 Even though most of the top athletes in the country are multi-talented, they mostly concentrate on one sport these days. Gone are the times of Deion Sanders and Bo Jackson where a guy would pick up his bat and glove down one day and strap on the pads the next. Clemson quarterback and slugger Kyle Parker could follow in their footsteps but he'll probably end up playing professional baseball and giving up football. The point is that even though many of these athletes are well-rounded, we only know about one side of them for the most part. That's why it was so spectacular to see Saints quarterback Drew Brees belt home runs in a charity softball game; we just don't get treated to the other side very often. Well apparently football hero Tim Tebow has a baseball side too.
Tim Tebow has been in Memphis trying to train for his upcoming football season. He's been working out at a local Memphis high school to avoid drawing huge crowds and he even took batting practice with the Memphis University School baseball team one day. How did he do? Well the Memphis Commercial Appeal says Tebow hit 12 of the 15 pitches out. Wow. I figured Tebow would have good power at the plate, but to have the coordination to drop 12 of 15 bombs without even playing regularly? That's impressive. I don't think Tebow will be a successful NFL quarterback but I have plenty more respect for him as an athlete now.
Sources:
Tim Tebow brings magic to Memphis [Memphis Commercial Appeal]
Tim Tebow puts on a show in batting practice … like, for real [Hardball Talk]