Maybe LeBron Was Resting His Elbow at End of the Regular Season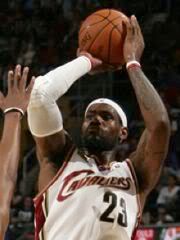 Easily the most discussed and scrutinized body part this post season in the NBA has been LeBron James' elbow. I noted that LeBron's right elbow seemed to limit him in Game 1 against the Celtics, a contest in which LeBron scored 35 points in a comeback win. Game 2 was a similar story for LeBron, only The King didn't have the same juice in the second half as the Celtics slammed the Cavs to even the series. Moreover, LeBron seemed to be favoring his elbow and holding it by his side as if it were in a sling. He also reportedly had his third MRI on the elbow in 10 days, which is a ton of radiation to undergo in such a short period of time. Anyone who has watched these games can see that LeBron is hurting and that the elbow is limiting his game. So why bring all this up aside from mentioning how it will impact the Cavs/Celtics series? Perhaps the ailing elbow explains why LeBron missed games at the end of the regular season.
LeBron James skipped the last four games of Cleveland's regular season to rest his bod (all four games were losses). Missing the games wasn't much of an issue for the Cavs because they had already clinched the best overall record in the NBA and the home court advantage throughout the playoffs that comes with it. While I felt the Cavs should have thrown all their best weapons, including LeBron, at the Magic in their second to last game of the season, I had no problem with LeBron sitting out games to rest. As a general rule, I support teams who rest their players to prevent injuries, regardless of sport.
LeBron took a ton of flack from media members for sitting out the last four regular season games. Tim Povtak of Fanhouse even said he would not vote LeBron James for MVP because he sat out those four games. I didn't understand that logic and I felt Povtak's bashing of LeBron didn't take into account the possibility that James was sitting out those games to rest an undisclosed injury. Now that we've seen what's going on with LeBron's elbow, I have a feeling that's why he was sitting out those games towards the end of the year. It puts LeBron in a bad spot because you don't want to make excuses or make a body part a target for your opponents, but it's hard to sit there quietly while you're getting bashed. Injuries people keep quiet is one reason you have to be careful when you're criticizing athletes for their play, or lack thereof.