Make it two members of the Indianapolis Colts Super Bowl champion team who have been arrested since the Colts victory early February. Recently released DB Dexter Reid was arrested Sunday.
Reid, a Norfolk native, was driving a black 2004 GMC SUV when he was pulled over at 4:32 a.m. in the city, police spokesman Sgt. Brian Ricardo said. While officers were investigating, they found a hangdun and marijuana in the vehicle, Ricardo said. Reid, 26, was cooperative with officers, who charged him with first-offense possession of a concealed weapon and with a felony charge of possession of marijuana.
The other member of the Colts Super Bowl team to be arrested was RB Dominic Rhodes, who recently pleaded guilty to drunken driving charges since signing with the Raiders.
I guess the only bright side here is that the players waited until the off-season before becoming delinquent, unlike certain other teams.
And to think, this guy has more rings than Peyton Manning — crazy.
Last year's record and finish are in parenthesis with projected improvement/decline indicated by plus or minus.

Toronto Blue Jays (87-75, 2nd in the AL East) -2 games

Get Crunked: You got Vernon Wells who's a bonafide stud. The dude can slug, run, play some good defense, and he's one of the best all-around outfielders in the game. Frank Thomas may be old, but he can still crush it, and he has the ability to carry a team (like he did with Oakland last year). Troy Glaus is still one of the top power hitters in the league. Alex Rios is an emerging star in the outfield, and was off to a great start until injuries slowed him down last year. Roy Halladay is second only to Johan Santana as far as starters go in the AL. And closer BJ Ryan belongs in every discussion about the top relievers in baseball. (damn, that's a lot to get you crunked!)
Party Foul: After Ryan, the bullpen is relatively weak (I'm told Brandon League is pretty good, but he's already hurt). After Halladay and Burnett, there's a huge drop-off in the rotation, but I think Tomo Ohka has some value. The team is weaker at catcher with the departure of Bengie Molina, and they're also weak in the middle infield, very weak.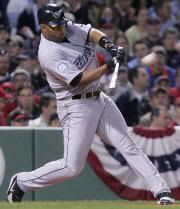 Vernon Wells is one of the top outfielders in the game

What'd my GM do: He locked up Vernon Wells for a long time. Very long time. That was an excellent sign to the fans that the Jays are committed to winning. The long-term deal may have been pricey, but I think it was fair given the market. Ricciardi locked up Lyle Overbay as well, who isn't a slugger at first base, but well worth the $6 mil/year tag. He lost Bengie Molina at catcher, and then the whole Rod Barajas deal fell through, leaving him stuck with Gregg Zaun. He signed The Big Hurt to a two-year deal, which wasn't bad considering Thomas should have two productive years left in him. Tomo Ohka and John Thomson were brought in as low-budget starters, pretty low-risk, low-reward. They lost Ted Lilly to the Cubs, but for $40 million, I'll take Ohka instead. Justin Speier and Frank Catalanotto each are gone, but for the multi-year contracts they received, it's not a bad loss.
Lay it on me Straight: It's a damn fine team stuck in the worst possible situation — competing with the Yanks and Red Sox every year. Unfortunately there's nothing they can do about that, unless there's realignment. But you know what, who says they can't beat the big boys? People forget, they finished ahead of Boston last year, so it can be done.
So where my boys gonna finish right now: Right around the same place as last year. I think they're a tiny bit better, the problem is the Red Sox are a lot better, and the Yanks are about as good as last year, so there isn't a whole lot of room for growth.
Can we be better than that: No. The pitching isn't good enough. Matter of fact, the team can only be worse than last year the way I see it.
Vince Carter jumps over an entire person in the game in the olympics 
Dr. J, windmill, on the fastbreak
MJ over Ewing, baseline, classic
John Starks, baseline, over the MJ & the Bulls 
KJ over Hakeem and Ewing 
Scottie Pippen teabags Ewing
Shawn Kemp has a flattop
Tom Chambers plays leap frog / Dominique baseline clutch and reverse jam
Darryl Dawkins shatters the glass / Shaq brings down the entire basket!
Ricky Davis with authority
Why does every great dunk happen over Patrick Ewing?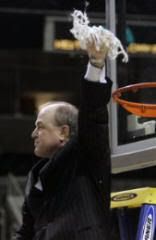 Only two games remain to decide the Final Four — and I have three teams remaining in my brackets!  But doesn't everyone else?
So Kansas and UCLA was a fantastic game (and even better because UCLA was victorious!). I also highly enjoyed the Memphis/Ohio St game, but I will disregard my cheap breakdown of the aforementioned games for a moment since I have a few other issues to address. 
IÂ am absolutely astonished at the lack of upsets, which in turn has resulted in all the high seeds winning. Here are a couple of discussions I've had recently:
My Dad pointed out that all #1 seeds won both their conference regular season and conference tournaments.  So yeah, that's reason enough to believe that the top teams in the country were significantly better than the marginal teams.  But even when that appears to be the case, don't some of them run out of steam in the tournament?  Or at least lose focus?  How is it possible that three Elite Eight matchups were 1 vs 2 seeds, and the other is 1 vs 3?
With radio host John Fricke, we agreed it was pretty cool that all eight teams who remained (prior to Saturday) represented the conference regular season and/or conference tournament champion of seven of eight tough conferences in America (the Pac-10's regular season and conference tournament champs, UCLA and Oregon both made the Elite Eight).
My point is this: that's what I want to see.  These are some of the greatest games you could ask for.  I want the heavyweight matchup.  I want the UCLA vs Kansas, the Georgetown vs North Carolina, the Memphis vs Ohio St.  Don't you?  Are you telling me you'd rather see Winthrop try to knock off Florida?  You wonder why Oregon waltzed in there?  It's because their bracket actually saw an upset or two.
If you are like me and you agree this has been outstanding basketball, then I propose this: why not start at the Sweet 16 and have a serious tournament?  So a mid-major knocks off two teams and what, they get creamed in the 3rd round.  Let's just cut out the middle-man, and go straight for the prize.  Give me the prime matchups — give me the high seeds everytime.  I want to see some real basketball, not that Cinderella bullcrap. 
Here are what my crappy picks look like after half the Elite 8 games are over.
MIDWEST REGION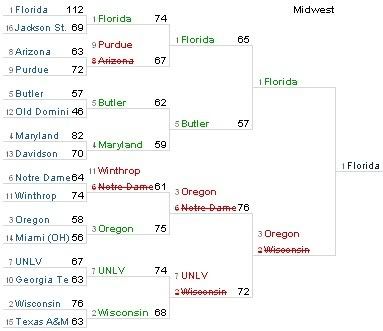 WEST REGION
EAST REGION
SOUTH REGION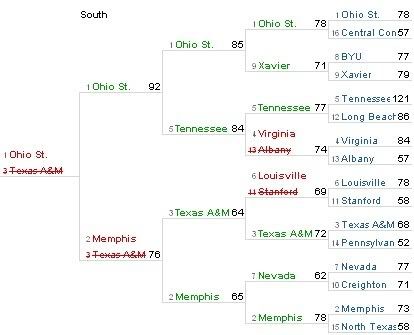 FINAL FOUR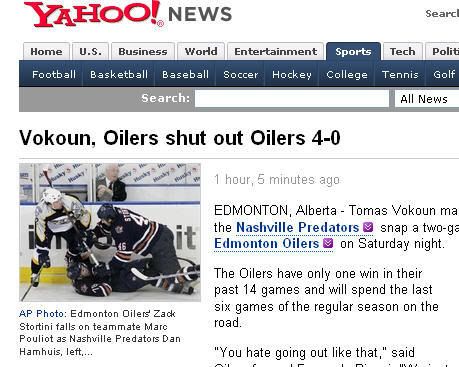 Bugs Bunny playing baseball thinks the Oilers are good. Need I say more?
In case you were actually curious about the game…the Nashville Predators behind Tomas Vokoun shutout the Oilers 4-0.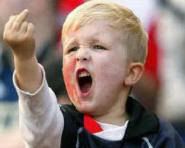 What is it with people sometimes? I just don't get it. The lawyer for the man soon-to-be-mentioned says he's a law-abiding banker with no criminal history. Is that so? Then what the heck is up with him trading child porn???
Kenneth John Gibson was arrested by FBI agents Friday. Investigators say he possessed sexually explicit images of children as young as three. The FBI says Gibson admitted to agents earlier this month that he had traded child porn online.
To think, this freakazoid was coaching kids in soccer! Imagine, all those times he was running kids through cone drills he was picturing your son naked.
Three year olds? Three year olds dude? What about three year olds could possibly turn a man in his forties on?
The best part is the lawyer's solution is for Gibson to see a psychologist. Yeah, I'm sure that'll take care of it. That's the effin problem with our legal system — the lawyer doing a great job would result in a serious disservice for the country.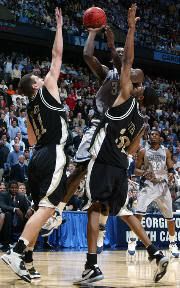 USC Totally Blew it: So let's recap, USC had complete control over UNC and was dominating that game for 33 minutes or so. Then Taj Gibson committed his fourth foul, went to the bench, and all hell broke loose. North Carolina went on a serious run, Tim Floyd decided to act like a five year old, get a technical, and before you knew it, it was game-set-and-match Tarheels. That still didn't stop Billy Packer from declaring that the Pac-10 had the toughest conference throughout the season (back when USC was up by double-digits).
No Travel on Jeff Green: Since I have Georgetown going to the championship game, I wasn't exactly up-in-arms over this, but I still noticed that Green took about fifteen steps before making the game-winning bank shot over about three different Vandy players. Lots of people were pissed about it, and CBS even led their post-game coverage with this issue. But now that Georgetown has moved on, nobody will remember the call — just like nobody's bringing up the blown Oden call against Xavier now that they're in the Elite 8. Of course Jeff Green is a Hoya, and teammates with Patrick Ewing Jr. whose father also went to Georgetown…and used to take ten steps across the key on-the-regular, so where else do you think he learned the move??

Oregon Benefiting from Luck of the Draw: Oregon crushed UNLV thanks to a ridiculous night from Tajuan Porter. But let's get real — commenter JohnRameySucks might not be happy to hear this — but Oregon got the serious luck of the draw. Miami of Ohio, Winthrop, and UNLV aren't exactly Indiana and Pitt. But hey, at least they took care of business.

Florida too good: Butler gave Florida a heck of a run for their money, but true talent (and Al Horford/Taurean Green) prevailed.
Here are what my crappy NCAA picks look like after the Sweet 16 (very ugly but three teams are still alive)

MIDWEST REGION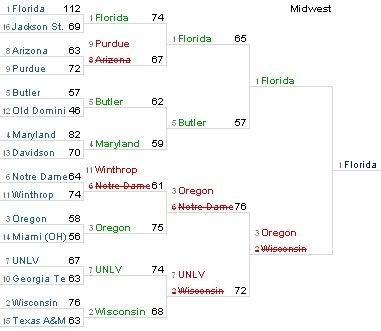 WEST REGION
EAST REGION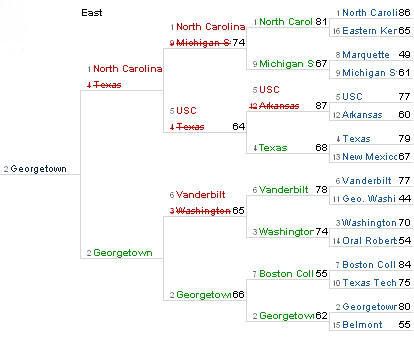 SOUTH REGION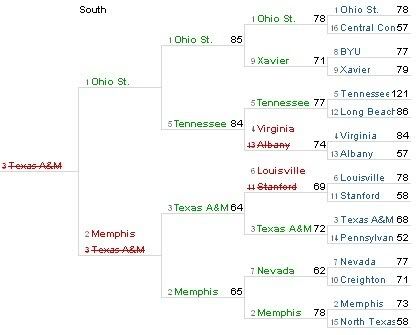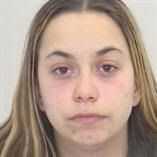 OK, so this is totally unrelated to sports — unless of course, you consider hitting home runs off the field sport — but, since the majority of the readers of the site are male (I'm guessing), I feel it is my duty to alert you. Here's a story from Toronto via Reuters:
A Canadian woman who had sex with men she met in bars, without using a condom and without telling them she was HIV-positive, has been charged with sexual assault, police said on Friday.

… police took the rare step of issuing a public alert complete with a picture of [Robin] St. Clair to help locate anyone who has had sex with her, and [police detective Joe] de Lottinville said two men came forward within a few hours.
That is some jacked up Ish. Seriously. Watch what (who) you're doing cuz you never know who could be that bitch.
12 seasons in the NFL on three different teams which resulted in 43 touchdowns and nearly 9,000 career receiving yards. A 1st round pick out of college and 1993 All-American honors. 138 yards receiving and a TD in the playoffs.
And where do all those accomplishments get former USC great and Detroit Lions WR Johnnie Morton? Into mixed martial arts. That's right. In an email from a P.R. group I received, it stated this:
FEG (Fighting Entertainment Group), ProElite and Showtime will announce Softbank presents DYNAMITE!! USA in association with ProElite, a major pay-per-view event at the Los Angeles Memorial Coliseum with some of the world's best mixed martial arts fighters, including 7-foot-2 South Korean Hong Man Choi, mixed martial arts legend Royce Gracie, former pro wrestler Brock Lesnar and former USC Trojan and Detroit Lion football star Johnnie Morton. Reporters will have the opportunity to speak with fighters, as well as representatives from FEG, promotional partner ProElite and Showtime.
7'2″ Hong Man Choi against 6'0″ Johnnie Morton. Yeah, I'd pay to see that.
And to think, Matt Millen called Morton a "faggot."
Maybe Morton's got an axe to grind.
(or he's really desperate for dough)
Well, at least the bright side is that unlike most other former athletes, he's keeping himself in shape.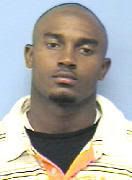 Man, what do you do after a long hard week of workouts for NFL teams as you're preparing yourself for the biggest step of your life — potentially playing professional football? Answer: you smoke a blunt and just chiillll. Well at least that's what Texas CB Tarell Brown allegedly did,
Former defensive back Tarell Brown was arrested on misdemeanor marijuana charges in Williamson County Thursday night.

Brown was out on bond Friday and awaits a drug test next week.

Two days ago he tried out for NFL scouts at UT's Pro Timing Day, hoping to up their draft stock before April 28.
Of course I would be remiss if I did not mention that this is the same Tarell Brown who was arrested for carrying a 9mm gun and two ounces of marijuana the week of the Texas/Ohio St. game last year.
And yes, he survived two taser shocks that night.
Needless to say, the Bengals already have a phone call into his agent.