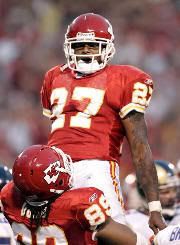 If there's one player whose plight I can cope with, it's definitely Larry Johnson. In a Q&A with Jason Whitlock of the Kansas City Star, Johnson says he's prepared for a holdout. Grandmama's set to make $1.7 million this year, but that's nothing compared to what he does. Johnson is a banger and a bruiser, and at the pace he's going, he's not going to have much of a shelf life. Let's break it down.
Larry carried the ball 417 times last year. He also caught 41 passes. The guy's a freaking workhorse like no other, and he's a fantastic back. Dude's 27-years-old, and he's taken the pill almost 900 times in his career. I don't think he'll be around a heck of a lot longer. Maybe what, five more years of good production? Most likely 2-3, right? So of course the guy wants to capitalize on a payday while he has the chance.
And as my buddy Michael David Smith mentioned to me, he's probably thinking he can do just what Priest Holmes did a few years ago, holding out until the Chiefs cave in and give him a contract. Normally I feel that athletes who sign deals should live up to them. But in this case, I definitely sympathize and understand Johnson's plight. He deserves to get paid. The Chiefs might as well do it now, rather than later, when LJ's on the downswing of his career.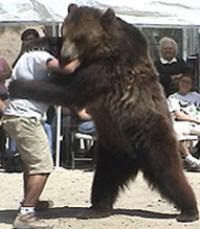 This is one of the cooler stories I've read in quite some time. Not even sure how embellished it is. Not even sure it's true. But Nicholas J. Cotsonika tells of a tale in the Detroit Free Press of Lions head coach Rod Marinelli wrestling a bear back when he was in high school. As the story goes, Marinelli and his buddies were cruising by a car dealership that had a gimmick sign out front saying you could wrestle a bear for $10. Marinelli's buddies got together the cash, and they set Rod on his way to wrestle Victor the Bear. Taking it from Marinelli's buddies Gary Schram and Don Gomez…
It was cold, the mat was all wet, and this bear was smelly, let me tell you," Schram said. "So we put the money up there, and in goes Rod. Rod did then what he does now: He went in to win."

"There was no hesitation on the guy's part," Gomez said. "He flew into that thing."

"And let me tell you," Schram said, "he had that bear on his back in about 10 seconds."

The Russian guy started poking Marinelli with the stick. It startled Marinelli. The bear recovered and pinned him. Marinelli reversed on him, and they went back and forth.

The Russian guy declared Victor the victor. Schram and Gomez said they cheated. Marinelli tried to be a good sport.

"Rod goes over to shake the bear's hand," Gomez said, laughing. "The bear doesn't know he's coming to shake hands. The bear attacked him again."
What would be more impressive is if Marinelli could find a way to beat the Bears. But I definitely see why the Lions hired him. Talk about commanding respect in the locker room. Sheesh.
Yeah, I guess you can count me as a believer in Karma. Not completely to the point where I'm a Pedro Cerrano voodoo nut, but to the point where I believe in the notion that things can go around and come around. With that in mind, I present the case of Jeremy Bonderman. Bonderman's a 24-year-old stud pitcher with the Tigers, now in his fifth full season with Detroit. Presently, Bonderman is 8-0, standing alone as an undefeated starter in baseball. But he really hasn't been that dominant this year. So what's my point? Bonderman's benefiting from karma.
The fact that Bonderman is 24 and pitching his fifth full season for the Tigers means he was a member of the 43-119 squad back in 2003. At the time, Bonderman was a 20-year-old rookie who failed to receive any semblance of run support. As a result, he wound up going 6-19. Such a horrendous season could've scarred him for life (see Greinke, Zach). Not the case. Talent and confidence prevailed, and Bonderman has rallied to the point where his career record is now an even .500 at 53-53. So while Bonderman hasn't earned an 8-0 record through strong starts (he's given up five runs on four occasions this year), he certainly deserves it.
Bonderman's career is an excellent lesson for young players stuck on bad teams to not get discouraged. Giving it some time, you never know how things might change.
Sometimes words are not even needed.
Thanks to Bossip for enriching our lives.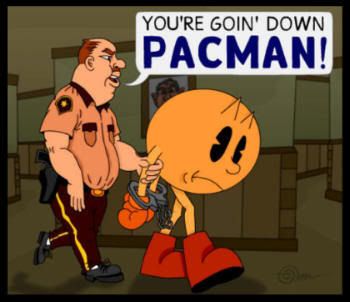 Image courtesy With Leather
Titans relieved Pacman is getting charged, who knew? [Michael David Smith at FanHouse]
Police Make it Rain on Pacman [Deadspin]
Top 10 list: worst high school to NBA jumps [Winning the Turnover Battle]
These guys made the wrong call to enter the draft early [The Feed]
Pics from Jessica Biel's GQ spread [The Superficial]
The Rangers under Tom Hicks have been terrible [Rumors and Rants]
Some baseball players whose fielding was revived from the dead [Bugs & Cranks]
If Gemma Atkinson called me, I'd rack her [Hollywood Tuna]
Ryan Leaf, he's a coach now, remember? [The Extrapolater]
A great Matthew Stafford kegmaster t-shirt [Ryan Ferguson at FanHouse]
That fantasy football entry contest isn't going too well [Big Daddy Drew at KSK]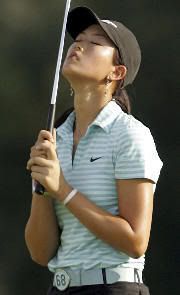 But let's be fair, that's what you were hoping to do with her. Heyo! This news means Wie won't be playing in the John Deere for the first time in three years. It's a sad day for the Wie family. From the wire:
Wie decided Tuesday to withdraw from the John Deere Classic as she tries to return from wrist injuries that have sent the 17-year-old from Hawaii into a deep slump of high scores and shrinking confidence.
Here's the deal, I'd rather have her withdraw not because of a wrist injury, but because her parents realized it was detrimental to her career. Still, this is a step in the right direction, and one that I commend. I hope we don't have to see little 'ole Wie in any men's tournaments any time soon.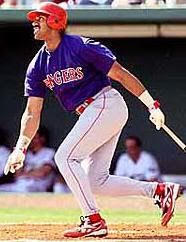 That is great. Fantastic. ESPNEWS was running the clip from an interview that Hicks did on KTVT in Dallas on Tuesday, following the announcement of the one year contract extension for GM Jon Daniels. In the interview, Hicks answers what he thought were some of the mistakes by the franchise. Check out his response:
Chan Ho Park…that was $65 million that we gave just gave away. Juan Gonzalez for $24 million after he came off steroids probably, we just gave that money away.
Yikes! I believe Hicks is referring to a two-year deal for '02 and '03. Juan Gone made it into a cool 152 games over the two years, banging 32 home runs and 105 RBIs. Not bad for 152 games…bad because that was over two seasons.
That's a pretty inflammatory charge coming from the owner of the Rangers who capitalized off several players who were most likely using steroids at the time. We know Jose Canseco was, we know Rafael Palmeiro did, Hicks thinks Juan Gone juiced, and the probability is high for Pudge too. But this is the same Hicks who is currently paying Sammy Sosa to play for his team. Yet he speaks about Gonzalez using steroids with indignation? Give me a break. All that matters to you is the that the team wins and makes money, Hicks. We know the truth.
UPDATE: Here's the video of the interview, courtesy KTVT
Johan tossed a CGSO last night against the Mets, striking out an uncharacteristically low one batter, while throwing an economical 92 pitches. But getting the win for himself and the team wasn't the only outcome at stake for Santana. There was something more riding on it.
The challenge Bert Blyleven made to Johan Santana went something like this: Pitch a shutout, and I'll get my head shaved.

Oh, those silly TV analysts.

Viewers can expect a new hairstyle from the Twins color man tonight, after Santana went the distance Tuesday night in a 9-0 victory over the New York Mets at Shea Stadium.
Johan says he's going to make sure Blyleven lives up to the challenge. I'm going to have to tune in to tonight's Twins game to see if Blyleven has become a bald beauty. Now, if Bert can come up with a way to make Carlos Silva effective, then I'll be impressed.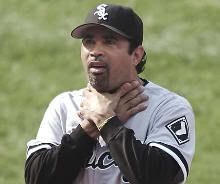 This is just pure Ozzie brilliance. There really is nobody like him. And I can't help but take enjoyment in the White Sox struggles because I know they will result in better and better press conferences. On the other hand, they can't lose too much, because I don't want Ozzie's job in jeopardy. This is quite the quandary. Amongst the highlights from Tuesday night's rant following the 7-5 loss to the Marlins: Ozzie's tired of being a ru-ru guy (his version of ra-ra I guess), Ozzie wants the players to take some blame, every move Ozzie makes is the wrong move, and Ozzie thinks the players should apologize to the fans for sucking. I have transcribed my favorite selections from the post-game press conference.
I'm tired to be positive. I'm tired to be the roo-roo guy, lets go lets go lets go.
…
They blaming on the coaching staff, they blaming on Ozzie, they blaming on the pitching coach, they blaming on Kenny, they blaming on Jerry, blame it on the players too. They don't even blame the right people. This is the same ballclub we had in 2005. Blame the players too.
…
Every move I've been making so far is the wrong one. Why? Because they no support me doing the things they're supposed to do. You thought I was a good manager? Well look at me now. I'm not that good. You as good as your players are.
…
We have to apologize to the fans that show up and watch this team. Because I'm tired to watch this day-in and day-out.
I swear, the day Ozzie gets the chop is the day I will mourn the loss of a Hall of Famer. Long live Ozzie. Viva El Guillen!
I didn't post this to get your thoughts on international soccer. I just wanted you to see what she looks like. She's 29 and has far too many names for me to write them all here. Just check the video below. And also be sure to check out this google translated press release. It's freaking hilarious. Thanks to Our Book of Scrap for turning my attention to this story. If the refs keep this up, soccer might actually get some attention on the site. Until that point, I'll keep it to a minimum.
I have a few ideas of what I'd like to do with that red card. Giggity.