So we've already established that the Mavericks fired coach Avery Johnson in the wake of their first round playoff exit. I always say you have to see what's out there first before you move on, but perhaps this is best for both parties. Now the question for Dallas becomes who do they hire? There aren't too many big names out there I can think of, and we all know my buddy LB already took a gig with Charlotte. So where does that leave Dallas? Craig Ehlo joined Arnie Spanier on Sporting News Radio Wednesday and offered this possibility:
I think Mark Cuban will actually go after Bobby Knight. You know he just lives in Lubbock, Texas only 375 miles west of there. Cuban is an Indiana grad and I wouldn't put it past him to offer something to Bobby Knight if Bobby Knight would be willing.
Let's see, Cuban could offer something, but I don't see any chance that Bob Knight takes it. He's already gone on a limb by taking a job with ESPN, is there really a chance he tries out the pro game? I don't think Knight wants any part of the professional ballplayer. Bob Knight not being able to pick and choose who is on his team via recruiting? Not a good mix. Not going to happen, though the thought is awesome. And who knows, Cuban could try to make something happen here — he's all about the splash, and hot damn, this would be a waterfall.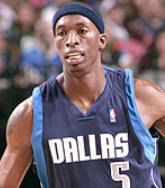 It was only two weeks ago that I wrote about Baron Davis reportedly being out partying the night before the Warriors' last game of the season — a must-win they lost to Phoenix that eliminated them from the playoffs. And today it disappoints me to write about the report from the Dallas area that Josh Howard was partying in between important games as well.
After a loss in Game 4 on Sunday, Howard passed out fliers in the locker room inviting teammates to celebrate his 28th birthday at a Dallas nightclub, a source said. The Mavs were down, 3-1, in the best-of-7 series.

Only a few players attended, the source said. But Avery Johnson confronted the players about the party the next day and canceled practice. The players decided to practice without the coaching staff.

The birthday party situation came two days after Howard went on a local radio show and discussed his off-season marijuana use.
Dude, what is this guy's deal? Why volunteer to the media that you smoke weed in the offseason? That only makes people question your dedication, it doesn't give you cool points. And then partying in the middle of the playoffs? After a loss no less? Are you kidding me? Do these guys not have any discipline? Seems to me like you can't blame Avery Johnson and Dirk for this (though Avery was pardoned from his role as head coach). It's about Josh Howard shooting a horrendous 29% from the field as the team's second scoring option, caring more about partying than preparing for these games. Clearly Avery wanted to win. Kind of hard to do so when some of your players care less about it than you do. I don't think this means Avery lost his team, I just think it means Howard's immature, and now some team is going to get a really good coach because of it. And maybe the Mavs need to think about getting a different number two scorer who has his priorities in order.
You may have noticed the Philadelphia Phillies wearing green caps on Wednesday (which at least was better than Rick Pitino wearing his white suit). No, it was not some belated St. Patrick's Day celebration. And I'd like to say that it wasn't some ploy to market new gear to the fans, but I'd probably be wrong. I am certain however, that is was a nod to the Phillies becoming the first MLB team to join the EPA's Green Power Partnership program. As part of the program, the Phillies have purchased 20 million hours of reusable energy or something like that. They are revamping their recycling program within the stadium, reusing everything from frying oil to fluorescent lamps. And good luck trying to bring some ketchup packets to your seat for those fries and the dog — they're switching over to more eco-friendly dispensers instead.
That's cool and all if this becomes the new trend in MLB considering how much energy is used up to power those ballparks. Maybe the Phillies can look into whether or not they can start recycling players, you know? Perhaps they can get back Adam Eaton pre-surgery, and maybe like Scott Rolen, too. OK, I'll stop making fun because I want the world to be as nice of a place for the future generations as it is for me. And while we're on the subject of improving Citizens Bank Ballpark, how about moving those fences back a few feet? I love Chase Utley and all, but come on, how many 338 feet pop ups do I have to see turn into home runs for Pat Burrell and Ryan Howard? If you can find away to reuse 20 million hours of energy, you can certainly afford to move back the fences a few feet, right?
(photo courtesy AP/H. Rumph Jr.)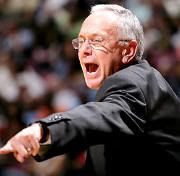 Until that no-talent carpet bagger decided to start taking coaching jobs all over the place, sullying the name that is Larry Brown. I know many of you have been eagerly awaiting a response to my namesake taking a job with the Bobcats, so I'll have at it. First of all, I would like to say that I was planning on this ass clown being done with his coaching career by the time I actually started doing productive things with my life like masturbating caged animals for a living writing a sports site and giving scores on the radio. I tried the whole middle initial thing for a while there in college, but Larry W. Brown never seemed right. Neither did Laurence Brown, nor L. Whitney Brown as it were. I've always just been Larry Brown. So now I'm just waiting for this dude to kick the coaching bucket. So anyway …
This is probably a good move for Mr. Brown. He goes to a team with no expectations, no culture of winning, and no history of success. He can easily step in and be the savior, making the franchise respectable and blow their mind by taking Charlotte to the playoffs. There was no way Larry was going to end his career on the Knicks note. But now he can be the charmed prince just by leading this team to the 8th seed in the Eastern Conference — a feat well within his means. It's a talented roster with some good pieces in place. Hopefully he leads the turnaround and sends Charlotte to the playoffs next season, and then retires following his second year there, after they've won their first playoff series in franchise history. That's the sort of the timeline I have in my head, and I'm guessing both LB and MJ are thinking the same thing. Then he can ride off into the sunset and never be heard from again, and I can go on living my life without this Waldo mucking everything up.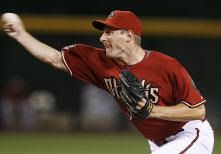 Through the first month of the season, it's pretty clear that there's one team head-and-shoulders above everyone else: the Arizona Diamondbacks. They've consistently been winning at a .700 clip this year, and they've already had an 8-game winning streak. They lead the majors in runs scored and runs batted in when it comes to offense. As a nice complement, they also lead the majors in ERA and WHIP. So that pretty much means they have the best hitting team as well as the best pitching team in baseball. And as if having the 6-0 Brandon Webb — the clear favorite for the Cy Young at this point — isn't enough, then having four-game winners Dan Haren and Micah Owings in the rotation is also pretty good. To make matters worse for opponents, Randy Johnson is back and mastered the Padres last time out (yeah, I know, it was San Diego, but still). So what does this all mean? The best may be yet to come: Max Scherzer has been called up.
Max Scherzer was ridiculous in Triple-A Tucson this year, going 23 innings over four starts, allowing just three runs. In a display of sheer dominance, Scherzer only walked three batters while striking out 38. He only gave up 12 hits. And Max made his Major League debut on Tuesday night in long relief of Edgar Gonzalez who got smacked around by Houston. Gonzalez allowed six runs over two and two-thirds, and Scherzer came on in relief. Max's line: four and a third perfect innings with seven strikeouts. So Randy Johnson comes back from back surgery, Doug Davis is recovering from thyroid surgery, Webb, Haren, and Owings are dueling for the Cy Young, and on top of all this, the rest of the NL now has to worry about Max Scherzer. Pity the rest of the league, pity them.
I'm not exactly sure what it is that makes this video so fascinating. Maybe it's because Peyton is the epitome of the All-American dork — the comb over hair, the perfectly manicured suit, the Southern drawl — he just comes across as such a harmless being. But if his random appearance at a Sweet 16 party didn't already tell you there's more than meets the eye, maybe this video of Peyton going bezerko on his offensive line will:
A few observations here: I think I enjoy this for the same reason I'm fascinated by watching Tiger Woods come out of portapotty. It's hard to believe these guys are human. Secondly, this pretty much confirms to me that you can catch any player in the league arguing during a game. It only appears as if T.O., Chad Johnson, and Randy Moss are the only guys bitching out there because the cameras choose to follow them. Additionally, check out FanHouse's post on the video to read the entire transcription of the argument.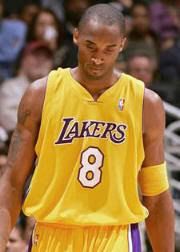 Not long ago I was raving about Gilbert Arenas volunteering to take a pay cut to keep the current Wizards together. How much more clear can you make it that you prioritize winning over money than by volunteering to take a pay cut? That's truly putting your money where your mouth is, or something like that. Anyway, I heard about some comments Kobe made regarding this very subject on KLAC recently. Here's what he was asked and here was his response:
Hartman: [Mychal Thompson] said that you would accept less money in order to ensure that you keep all the pieces in place so all these great young players can stay with the team. Is that going to be a consideration when you do get a new deal, that everyone stays aboard so this team can stay together?

Kobe: That's Mitch [Kupchak]'s responsibility to make sure the team stays together. For me, what I have to do is show up as a player and play the game. One thing that I learned throughout the season is that Mitch might make a million bad decisions, but then he made two great ones this season. Honestly I just lay off of him, he's done a tremendous job with this team.
So when the pressure was put on him, Kobe quickly deflected and put everything on Mitch Kupchak. Hmm, Kobe passing the buck to Mitch? Why does that sound so familiar? I thought it was quite interesting that Kobe had the opportunity to say he's willing to take a pay cut to keep this team together but he wouldn't volunteer publicly to do so. Then again this is the same guy who couldn't get along with Shaq forcing the Lakers to break up what could have been one of the NBA's great dynasties. Why would we expect him to volunteer to sacrifice a paycheck to win?
When I read Moneyball
by Michael Lewis, it changed the way I thought about baseball. Not only was it incredibly well-written and interesting, but it also brought to my attention (and many others) the side of sabermetrics. It changed the way the media, the fans, and even the people in the actual game thought about the sport. It made more people conscious of on-base percentage and the value of OPS, and how to take advantage of deficiencies in the free agent and draft market. Anyway, one of Michael Lewis' recent books was about football and titled, The Blind Side: Evolution of a Game
. As you could imagine, it discussed the importance of protecting the quarterback's blind side with an excellent left tackle. Prior to reading the book, I never really thought about the importance of the left tackle. Perhaps the same can be said for many NFL executives. Via Deadspin, I came to find out that Darren Rovell at CNBC noticed what I had noticed on Saturday — that seven of the 31 first-round picks on Saturday were offensive tackles. Rovell thinks it could have to do with Lewis' latest book:
To the best of my knowledge, here's a chart of how many left tackles were taken in previous first rounds of drafts:

2002: 2*
2003: 2
2004: 3
2005: 1
2006: 1
2007: 3
Seven were taken in 2008. The book was published in October 2006, and reprinted in September 2007. Maybe it took some time for the idea to sink in. Now it could just be that it was an amazing year for offensive line talent this year, but the more likely case is that Lewis brought the left tackle position to prominence and caused personnel executives to change the way they thought. That would be incredible, if it's the case, and I think it might just be.
Sure it would be funny to make some crack about Barry Zito being the most expensive long reliever in history, but that would be trite. I don't feel like piling onto Barry even though people say it's hard to sympathize with a man making $126 million. He signed the contract, he made the choice, he has to deal with the pressure, should we all be so unfortunate. But I think there are a few problems here that the Giants are making to magnify the situation rather than ameliorate it. All parties want Zito to be pitching well and starting every fifth day — that's how both sides would win (though one could argue Barry's already won). Unfortunately what the Giants are doing is only compounding the problem.
Why would you send Barry Zito to the bullpen? What good does that do? Right now this is a problem you have for nearly the next six years. The only way for him to come close to earning his money is by being in the rotation. How does sticking him in the bullpen help you? If you don't think he's any good, then he's going to suck regardless of when you pitch him — 1st inning or 6th inning. Are you demoting him because he's 0-6 and you're a results-oriented numbers person? Well maybe if he had some defense behind him (did you see how many balls they botched on Sunday or how many unearned runs he's given up?) or some hitting, then he'd have a win or two. At 1-4, he's not pitching well, but he's not an embarrassing 0-6. Are you demoting him because he can't throw very hard and he's getting smacked around? Did you not see his numbers in '04 and '06 in Oakland? Did you forget what you were buying?
If anything, San Francisco should be mad at themselves for spending $126 million on a Cy Young Award won in '02 and the dream that that would be replicated five and six years later. Instead they have what Barry was after that point — a slightly better than .500 pitcher who doesn't miss a start. Well now he's become a slightly below .500 pitcher and you're making him miss a start. What he does best — and what you paid for — is a guy who eats innings. Now you're taking that opportunity away from him. Burying Barry in the bullpen won't hide the problem, it will just pile onto the embarrassment that's already been created.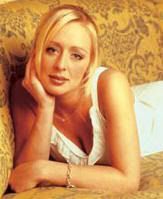 OK, this is just entirely too creepy. The New York Daily News (of course) has a story suggesting that Roger Clemens had a 10-year relationship with country singer Mindy McCready that began when she was 15-years-old. Dude, Rocket, I was a sucker for Hayden Panettiere for a while there, but damn, at least she was like 17 or something. 15 though? That's like Jesus from Lebowski style right there. There's no way to be certain about the story, but the Daily News apparently has several sources confirming the romance.
One other aspect to this story, besides the obvious disgusting nature of a grown man getting down with a 15-year-old, is that it could sully Clemens' argument that he is a solid character, family man. You know he's trying to sue McNamee for defamation or something, and when it comes to he-said/she-said stuff, this could hurt his image and character. Some of the reports here are just simply weird. Clemens' wife Debbie says she was aware of the relationship, as Roger says it was strictly a family friends thing. But I ask you: what kind of grown man has a family friend relationship with a young, good-looking teenage woman trying to become a famous singer? Not too many that I know of. This is exactly why agents partition "discretionary accounts" for their clients — so there are no traces of the money going to these side broads.

UPDATE: Per Spin in the comments, McCready admits it's all true.