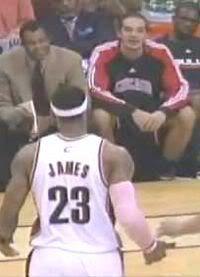 The NBA playoffs will officially get underway Saturday night for the Chicago Bulls and the Cleveland Cavaliers. Like any anticipated matchup, there needs to be a little trash talking and cockiness floating around before things get settled on the court. In this case, the trash talking is coming from Bulls big man, Joakim Noah. That's no surprise given the tension that exists between Noah and LeBron dating back to December. Even as recently as last week, Noah called LeBron "the enemy." The question is, can the Bulls really back it up?
I don't really believe that the Bulls should even be in the playoffs to begin with; I think the system is broken. But OK good for them — they clung on to that eighth playoff spot for dear life and now they are going to face The King himself — LeBron James — and an amazing Cavs team. Noah said that he is proud of how his team has played and how hard they fought to get to the playoffs. He also believes that they have a legitimate shot to get past Cleveland, "We're trying to shock the world," Noah has said. It would stun the world if the Bulls could pull this thing off. It would be a miracle in my eyes if a team that just finished at .500 defeats the best team in the NBA in a seven-game series. But LeBron wants Noah to know that they are not going to be playing the same team they have seen all year. He said in response to Noah:
In one of the most laughable lawsuits I've come across, rapper Jay-Z is suing Red Sox DH David Ortiz for opening up a club in the Dominican Republic using the same name as Jay-Z's chain nightclub, 40/40 Club. Apparently there are three branches of the 40/40 Club by Jay-Z — New York, Atlantic City, and Las Vegas, with plans to go international. Are they even allowed to exceed four clubs in good faith or must they wait for Matt Kemp to step his game up first? Anyway, according to the story sent in by contributor Alan Hull, Jay-Z and his business partner are not happy with the Red Sox DH because Ortiz's Dominican-based club is called Forty/Forty. They feel as if Ortiz is "trading on the fame, value and goodwill of their name." Considering the lack of originality in David's choice, their complaint sounds founded to me.
If you ask me, Ortiz was stripped of his cool badge last season when his play dropped off, he was found guilty of using PEDs, and he was no longer able to hit his weight without them. He even lost his nickname "Big Papi" when his production fell off because one has to hit like a Big Papi to wear that nickname. Lastly, what's a guy with 10 career stolen bases doing naming his club 40/40 anyway? Ortiz better come up with a backup plan now that he's in court. May I suggest the 4/26 Club? If not, perhaps Club 154?
Sources:
East Coast rivalry: Jay-Z sues David Ortiz over nightclub name [Big League Stew]
So Ben Roethlisberger escaped criminal charges for the alleged sexual assault incident in Milledgeville, Ga., on Monday but he's not escaped public criticism now that more information on the case has been released.
We knew the police investigation was screwy from the start when policeman Jerry Blash asked to take a picture with Roethlisberger. Unsurprisingly, Blash is no longer with the police department. Reading through the Ben Roethlisberger police report of the incident posted by The Smoking Gun makes Roethlisberger really look like a criminal. It also reinforces the notion that the NFL will suspend Big Ben this season. Here are some of the ugly details: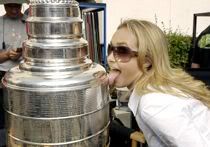 On Wednesday night the NHL playoffs got underway (I hope you've got your playoff beard started). It's always exciting to see playoff hockey action and it's even more exciting when the upsets start and the underdogs begin winning games. Ah yes, the toothless grins were shining bright last night, ladies and gentlemen, and don't expect that to stop anytime soon.
Let's start with the biggest upset of the evening — the eighth seeded Colorado Avalanche knocking off the top-seeded San Jose Sharks. It appeared that these two teams were heading for overtime when a shot by Chris Stewart of Colorado bounced off the skates of Sharks captain Rob Blake and into the goal to give the the Avalanche a 2-1 victory. Next, the reigning champs and Eastern Conference's four seed, the Pittsburgh Penguins, were looking to prove that they could repeat as champs, starting off by beating the five seed Ottawa Senators. Well, it didn't quite happen that way as the Penguins feel to the Sens 5-4.
I don't mean to recap the nights events for you — if you want to know all the scores knock yourself out. My point is that the Avalanche and Senators were not favored to go very far in this postseason but all it takes is one upset to build momentum.  There are a lot of great teams in the playoffs this year and as of right now, it's hard to say who will be hoisting that cup in a few weeks. If pressed for a prediction, I'll go with the Blackhawks not just because I'm from Chicago, but because they were the underdogs last year and I don't think they will let it get away again this year. This is a young team that's hungry to bring the cup back to Chicago.
Albert Pujols is at it again.  The one hitter in the MLB who seems unaffected by the Steroid Era year after year already had five home runs in his first seven games and is hitting .400 through the first nine.  Actually, Pujols just broke a Major League record for the most home runs by a hitter through his first 10 seasons in the league when he belted his 371st career homer. Not bad for a guy who has 153 games remaining in his 10th season to shatter that record. That's not to say Pujols has not had his fair share of naysayers and accusers – he's had plenty.  That goes with the territory, and if you read Sports Illustrated's cover story before last season kicked off, you'd get a sense that Albert understands that.  Pujols' career numbers are absolutely mind-boggling.  He's yet to finish a season hitting under .314, with less than 32 homers, or under 103 RBI.  Yes, that includes his rookie year, when he batted a modest .329 with 130 RBIs.  Even Derek Jeter, one of the most pure hitters in the history of Major League Baseball, failed to reach an average of .300 four times in his astonishing career.
At a time in the game where it seems most stats have been enhanced by steroids, the closest link for Pujols to PEDs came with the release of the Mitchell Report, when an erroneous report said Albert was on the list.  Shortly thereafter, Pujols' name was cleared from the smoke.  The unfortunate reality for Pujols is that playing in this era of baseball means he's guilty by association and it leaves us open to question his accomplishments. For instance, MLB's current drug testing system does not detect human growth hormone, which would certainly help a hitter reach the levels that Pujols has already ascended to at the age of 30.  As for the argument that he's never tested positive for steroids, that's questionable because there are plenty of ways around those so "tests" they issue professional athletes.  People are entitled to their opinions, and if you want to take the cynical view in analyzing Pujols' career, that's certainly your prerogative, but it's not how I choose to view things.
At first I saw this video and said, "No way, that's too blurry.  It'd be way too easy if that was actually Jerry Jones."  Come to find out Jerry actually called Parcells to discuss the video and try to clear the air between the two.  In case you can't make out what's being said in the video, Jones probably had a little explaining to do after he was caught on camera (below) telling a fan, "Bill's not worth a s***."  I suppose I shouldn't be surprised, as Jones has shown us so many times in the past that he's not exactly a stand-up act.  Imagine being the fans who videotaped this?  Would you believe one of your friends if they called you up and told you they just videotaped Cowboys owner Jerry Jones hammered ragging on Bill Parcells and Tim Tebow?  Good for these guys for capturing it.  Check out the video of Jerry Jones talking rag time, via Deadspin from YouTube:
Sources:
Slurring Jerry Jones Bad-Mouths Bill Parcells, Tim Tebow [Deadspin]
Jones, Parcells talk over video [ESPN]
Back in December, the Celtics got a gift when DeJuan Blair of the Spurs scored on his own basket trying to corral a rebound. The Celtics went on to win that game 90-83 but karma caught up to them on Tuesday night in Chicago. The exact same thing that happened to Blair happened to Rasheed Wallace. Check out this video of Rasheed Wallace scoring on his own basket courtesy of Midwest Sports Fans via SI's Extra Mustard Hot Clicks:
Wouldn't you believe it, Sheed has as many points for the Bulls as he did for the Celtics. Like I said, pretty much sums up his season in Beantown.
Sources:
Rasheed Wallace Lives Every Baller's Worst Nightmare [Midwest Sports Fans]
Marisa Miller; Jerry Jones rips Bill Parcells, Tebow [SI Extra Mustard Hot Clicks]
Yes, there are too many teams and too many games in the NHL and NBA Playoffs.  These NHL playoffs aren't nearly as exciting as the NFL's one-and-done system, nor MLB's four teams from each league setup.  But maybe we don't appreciate hockey as much as the other major sports in America.  Heck, I know some genuine sports fans who can't name half the teams that made the postseason.  Whatever the case, it can't hurt to try and get involved.  Growing a playoff beard is a great way to start getting in the spirit of things.  Another thing to keep in mind is that from a player's standpoint, these games matter a whole heck of a lot more than the 82 games before them did.  That means the plays get more spectacular and, most importantly, the hits get harder.  So let's do the best we can to get in the playoff hockey spirit.  After all, most of us don't want to see another lockout. Here are some of the highlights from the regular season to get you warmed up for the postseason:
Video Source: YouTube
After months of speculation and a full season and a half of being a malcontent, wide receiver Brandon Marshall was finally traded Wednesday morning from the Denver Broncos to the Miami Dolphins. Adam Schefter of ESPN says Denver will receive a second-round pick in this year's draft as well as a second-round pick in the 2011 draft as compensation. While Marshall didn't net Denver a first-round pick, the pair of second-rounders is quite a haul. Compare the two second-rounders to what the Steelers received for Santonio Holmes — just a fifth-round pick for a guy a step below Marshall on the receiver totem pole. I would be quite pleased if I were running the Broncos.
While Denver made a nice deal, they have to make the trade worthwhile by translating the picks into serious players. In two seasons they have traded their two offensive Pro Bowlers so they better have something to show for it. On the other side, with the price Miami paid in draft picks for Marshall, one has to assume they plan on signing him long-term; you don't give up that much for a rent-a-player in the NFL. Bill Parcells must know something I don't because I don't trust a guy who kicks balls around the practice field, screams he hates Denver, and puts his arm through a TV by slipping on a McDonald's bag. He'll make them better but he's one risky proposition for a long-term deal, that's for sure.
Not bad by Phin Phanatic which foreshadowed this trade on Tuesday, and this also explains the report that Ted Ginn Jr. was on the block.
I was going through some of the stories at Fanhouse and came across a headline that was hard to scan past: "Florida H.S. Pitcher Overcomes Loss of Leg to Start Again." Naturally I was hooked and had to read further about this legless pitcher. Turns out it's about Nate Winters, a 16-year-old junior at Winter Park High School in Florida, who pitched for his school's varsity baseball team on Monday. What made it so special is that Winters had his left leg shredded in a boating accident 20 months ago and he now has to use a prosthetic leg. Incredibly enough, after overcoming an initially embarrassing return to baseball, Winters was able to throw 80mph in his game Monday — a one-hitter over four and a third. Winters' story is incredible when you read how much he overcame to get to this point. His story is almost as good as Kirby Kyle's. Too bad the only version of the Kirby Kyle story from Radio Days I could find was dubbed over in Italian, but if you stick with it you'll get the idea.
Sources:
Florida H.S. Pitcher Overcomes Loss of Leg to Start Again [Fanhouse]
Mobiright