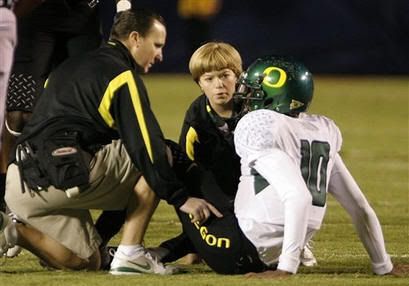 Well, I guess it was more of Dennis Dixon's knee ruining the season, with Arizona taking advantage while he was out. What really pisses me off is that Arizona sucks at football, and nobody on campus cares about their football team, so their wins go to waste. Think about it — if you're only going to go like 5-7 or something on the year, why bother knocking off a good team and ruining their season? If you're going to pull an upset, at least make it to a good bowl or something — make it worthwhile. Unfortunately, Arizona doesn't do that, so their upset wins are virtually meaningless. Big wins by the Wildcats don't change their program; they're not jumping off points for future success. They just are wastes and it sucks.
I'm going to take this a step further and say that Oregon should still be in the national title game if Dixon comes back healthy and they finish with just two losses. You cannot possibly tell me that there is another team in the country more dangerous than Oregon when Dixon is bouncing around on the field. They are a nearly unstoppable offense gaining 7-8 yards per play, it seems. The game was on its way to 15-0 and an Oregon blowout to start. Dixon gets hurt, enter a rusty Leaf, and it's over. I can easily let this loss slide. Sure, Oregon's defense is sketchy, but I'd like to see any team in the nation try to stop that offense when it's healthy. Good luck with that. That's why when January comes around, I'd still want to see Oregon in the title game, putting up a 40 spot.
(photo courtesy Wily Low)
It was nice to get back on track with a 2-1 week. The Browns covered easily, and even were leading most of the game. The Falcons were getting points, and won outright. Only the stinking Lions lost last weekend, but this weekend they're at home, not on the road. Anyway, the record now stands at 10-7-1 for the year. Check out the week 11 picks, as posted at FanHouse:
Hey, it's always fun to have a little something extra riding on the Reggie Bush/Mario Williams matchup. And damn, I learned my lesson with the Niners a few weeks ago. Losers.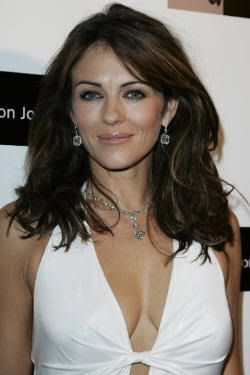 Mercury Morris isn't buying the Patriots undefeated yet [SPORTSbyBROOKS]
It's a real crappy time to be a Bay-Area sports fan [100% Injury Rate]
College player recorded first ever quadruple-double [The Love of Sports]
Ohio St. pizza parlor going a little far with the anti-Michigan stuff [EDSBS]
Elizabeth Hurley is making a comeback [The Superficial]
I have the same taste in food as Penn State lineman, weird [The Postmen]
Is Elijah Dukes heading to the Nationals? [Scott Van Pelt Style]
The Bears need to go back to Brian Griese [Zoner Sports]
Hayden Panettiere is wanted for arrest in Japan [Dlisted]
Things are getting pretty stinky for Minnesota football [Wizard of Odds]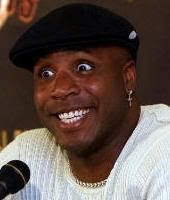 If you were down with LBS going back a few months, you know that I was all over the upcoming indictment of Bonds. I said the feds were getting close to indicting him back in July, and also speculated that President Bush could have had something to do with it. For quite some time, I've had the inkling that Bonds was going to get indicted, and that Major League Baseball knew it was coming as well. All those questions about Bud Selig being reluctant to attend Barry's record-breaking game? It's because Selig didn't want to be associated with a player guilty of federal crimes.
So if Bonds is facing several charges of obstruction of justice and perjury, how can he be lucky? That's easy: MLB allowed him to break the record. I have no doubt that they waited until the offseason to indict Barry. They could have brought these charges about in the summer before Barry broke the record. In fact, parts of me (OK fine, all of me) wanted them to indict Barry on his way to the batter's box, stuck on 755. They were generous for holding off on the indictment until now. They got their investigation extended months ago, meaning they had a strong case all along. So why wait until now? Because they didn't want to mar the season. I couldn't think of a more appropriate ending to Bonds' career. And yes, unless he goes to the Independent Wild Things, he's done forever. Alas, justice may be served!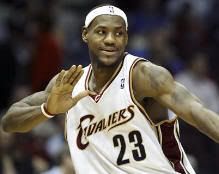 Earlier I was really pushing for Stephon to dump all his dirt on Isiah so we could have one lovely crap fest as it all hits the fan. I'm not quite sure if I'll get my wish. The topic du jour though, happened to be whether or not people thought Isiah or Stephon needed to leave the Knicks. If you ask me, I think you can win with Stephon, and I'd be quicker to get rid of Isiah. When was the last time a freaking coach caused such a P.R. stir? Anyway, none other than King James himself would disagree with me:
Do not expect New York Knicks guard Stephon Marbury to get traded to the Cavaliers any time soon. At least not while LeBron James is on the team.

"I don't know him that well," James said of Marbury. "But I couldn't have a guy like that on my team."
Pretty harsh words coming from Da King if you ask me. How can you comment on a guy you don't know that well? Or is it enough to know that the guy didn't respond well to a potential benching, and that's all you need to know about him? I'm guessing that's the deal. I think it's a shame that Steph seems to be taking more of a character hit in this whole situation than that dirty, rotten, scum of a coach, Isiah.
UPDATE: The omniscient Matt Watson passes along word that LeBron and Stephon have a history going back to last year when LBJ took a shot at Marbury and his cheap shoes.  Now that's an interesting twist.  Maybe this goes a little deeper than I originally thought.
For some reason, a trendy debate began this week on many of the TV talk shows. I believe I saw it as a topic on Mike and Mike, Around the Horn, and PTI. Which quarterback would you choose to lead your team after Manning and Brady: Romo, or Roethlisberger? Well, the answer is simple — it's Romo:
Now, if you continue reading, you'll find out why Roethlisberger clearly won't work …
Please, oh please, oh pretty please? If there is a basketball god out there, convince him to have Stephon blackmail Isiah Thomas! There is no question in my mind that Starbury has the goods on Isiah given what he hinted at according to a New York Daily News article (and even regardless of the quote):
"Isiah has to start me," Marbury fumed, according to the source. "I've got so much (stuff) on Isiah and he knows it. He thinks he can (get) me. But I'll (get) him first. You have no idea what I know."
Well, we know of all the A-Mooch-A allegations against Isiah. We also know that Marbury "coerced" an intern to copulate with him. Is Starbury going to tell us that he and Isiah tag-teamed her? Is that what this is all about? Oh boy, could you just imagine the stories that would come out? Filthy, cheating, fornicating, Isiah! This could be great. Of course, this could also just be part of Marbury's ploy to get himself to the Italian league. That's always a possibility. It is at this point that I would normally link you to the infamous video of a cracked out Stephon on TV, but those beauties have unfortunately been removed from YouTube. Sigh.
Somehow yesterday on The Jim Rome Show we got all hung up talking about the arcade game Punch Out.  I wasn't too familiar with the arcade game because I only knew of the Nintendo version — Mike Tyson's Punch Out.  Anywhoo, it just seems to be that sort of week, since Deuce of Davenport tips me off to a halftime performance by the Cal band recently.  Needless to say, it's pretty kick ass.  Take a look:
OK, I got Pong and Mario, and that's about it.  Anyone else recognize the other games?
Playboy's sexiest sportscaster competition is launching [Awful Announcing]
Tony Romo has the most popular NFL jersey [SPORTSbyBROOKS]
Crazy Chinese man takes Olympic spirit way too far [100% Injury Rate]
Sarah Michelle Gellar is making a comeback [Egotastic!]
I'm guessing Aubrey Huff is divorced by now NSFW [Deadspin]
So much for Dennis Rodman coaching in the WNBA [Part Mule]
It's easy to make fun of a goofy looking Peyton Manning [KSK]
Redskins fans have launched a fire Joe Gibbs website [Mr. Irrelevant]
Alas, the Dolphins will now get their first win [FanIQ]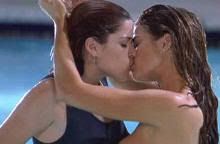 We know the man is still trying to patch things up with the Giants who say the sides have parted ways. In the meantime, Bonds told MSNBC that he's been training and is ready to get back out there and play. With free agency looming and the Winter Meetings approaching, Bonds is likely to have offers on the table. But if nobody from MLB steps forward, at least Bonds will have a fallback option:
Barry Bonds has a public offer on the free-agent market – from the independent Washington Wild Things, who play not far from where Bonds began his major league career in Pittsburgh.
…
Bonds, who made about $16 million last season for the Giants, would have to settle for the independent Frontier League's maximum salary of $1,200 per month.

There are extras, though: The Wild Things are offering a 50-50 share on merchandise sales and a pledge to find a host family for Bonds so he doesn't have to rent an apartment in this southwestern Pennsylvania city.
Wooweee! With incentives like that, I have to imagine that Barry's clamoring to sign on the dotted line. Could you just fathom hosting Barry Bonds for a season of baseball as your guest? Good to know the independents are breaking out all the stops to bring in the big guns. Who knows? Maybe they'll even spring for a free mini-bar on the road!