Phil Fulmer Gets the Last Word with Tennessee Firing/Lane Kiffin Hiring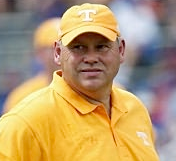 While the shocking news that Lane Kiffin was bolting from Knoxville after just 14 months on the job caused many people in the community to riot, it did leave a smile on the face of someone in Vol country (no, we're not talking about Urban Meyer either). Despite being one of the most loyal Vols supporters around, you know former coach Phil Fulmer had to enjoy a moment of satisfaction upon hearing the news of Kiffin's departure. Kiffin may have talked a big game but he only went 7-6, got blitzed in a bowl game, and didn't come close to Fulmer who started off 10-1 in his first head coaching season. That brings me to Fulmer's thoughts on Kiffin's departure which he released in a statement:
Recent events have been painful and an embarrassment to all of us who care about UT. I love the University; I am loyal to my alma mater and am ready to help as the University makes one of the most important decisions in the history of our football program. However, to prevent any misunderstanding, I am not seeking to be a candidate for the head coaching position.

I am looking forward to embracing the next coach and have some strong beliefs about the kind of man he should be. He must embrace Tennessee's culture and traditions, be mature and of good character, and demonstrate integrity and leadership to our young men who desperately want to be shown the way.
In other words, Kiffin was everything I wasn't. Oh yeah, Lane was an embarrassment too. The part Fulmer mentions about culture and traditions is key; Fanhouse said that one of Kiffin's main focuses was to turn Tennessee into the USC of the South instead of further developing Tennessee's tradition. He was a fish out of water to begin with and he screwed things up for any potential outsider to land a big SEC job in the future. Way to be selfish, Lane. Nice going. Fulmer meanwhile has no reason to take the job now — all the people who wanted him gone would love to have him back at this point. What more satisfaction could you want than that?