Drunken Skeeball "Brewskee Ball" Leagues Sweeping the Nation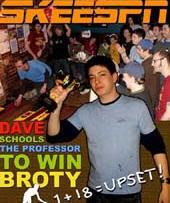 I was alerted by a friend and site reader about the recent fad sweeping the nation. It's cheap, it's fun, it's easy, and best of all, anyone can do it. It's drunken skeeball, also known as Brewskee Ball. Founded by a few dudes in the summer of '05, Brewskee ball is the hottest new thing around. They keep stats, have invented a lexicon of terms to describe the action, and preface nearly all words with a "skee." The sport(?) has gained so much popularity recently that leagues have sprung up around the country, in various metropolises such as New York, San Francisco, Charlotte, and Wilmington. And much like fantasy sports, Brewskee Ball is as much about cleverly named team nicknames as it is about actual team production. Check out some of the team/roller names:
Skee-Baggers
Hepatitis Skee
Skee-Brews
The Holy Rollers
Balls of Glory
Skee6Mafia
Kelly Kapowskees
Skeechiro
My personal favorite name of course is a nod to NBA player, Rafer Alston. There's a top roller in the league who goes by the name of Skeep to My Lou, and he happens to be quite the prospect, excelling in both skee ball and dance celebration moves. See for yourself:
My guess is this will be a hit with the World Series of Beerpong crowd.