Is Sonya Thomas too Hot to be a Competitive Eater?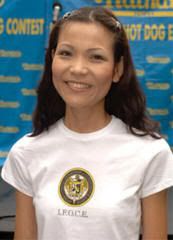 I might have to say yes. It's quite curious actually that so many competitive eaters are in good shape. Kobayashi's ripped, Chesnut's normal, and some of those other dudes were getting down doing pushups before the competition. Which brings us to Sonya Thomas. Known as the Black Widow (I thought that was Janet Lee's nickname?), Thomas checks in at like 5 feet and 100 pounds. She's small, really small. She's quite normal looking. But she's a competitive eater. How is that possible?
Let's take a look at some of the records she's set to find out why they call her The Black Widow. According to her wiki, she holds records for the following:
5.75 pounds of fried asparagus in 10 minutes
11 pounds of cheesecake in 9 minutes
80 chicken nuggets in five minutes
167 chicken wings in 32 minutes
46 three ounce crabcakes in 10 minutes
65 hard boiled eggs in six minutes and 40 seconds
four pounds of fruitcake in 10 minutes
7 3/4 pound burgers in 10 minutes
9 pounds of crawfish in 10 minutes
44 lobsters totaling 11.3 pounds in 12 minutes
46 dozen oysters in 10 minutes
6 extra large pizza slices in 15 minutes
23 pulled pork sandwiches in 10 minutes
43 soft tacos in 11 minutes
250 tater tots in 5 minutes
7 3/4 pounds of thanksgiving dinner in 12 minutes
That seems a bit excessive for such a small, petite thing. No? Let's just say when her Playboy spread hits the newstands, I'll be all over it.