Poll: Fans **** Better After Team Wins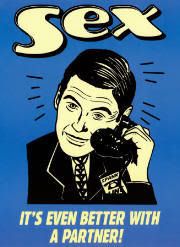 I just don't even know what to do with this. I'm not so sure that the outcome of a sporting event really impacted my life to great levels for longer than like an hour, but I know there are some who live and die with each win or loss. It is for them that the term "fan" was developed. Anyway, here goes nothing:
Nearly 30 percent of U.S. men think sex is better after their football team wins and 10 percent say they have bad sex after a loss, a survey indicates. The survey says 1-in-4 male sports fans would be willing to give up sex for at least a month if their favorite team were guaranteed a Super Bowl win. Of them, 11 percent would give up sex "for however long it takes."
Bengals fans were unable to participate in the study citing "lack of empirical evidence to make such a conclusion." The poll results remind me of that line Happy said in Blue Chips, telling Pete Bell, "I don't know about you, but I **** better when we're winning." I guess there really are people like him.