Travis Pastrana Is One Crazy Mofo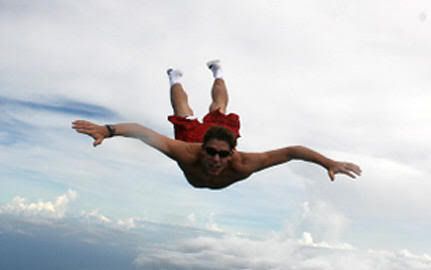 When it comes to crazy behavior, I'm one of the more conservative folks you can meet. I don't bungee jump, I don't hanglide, and I don't jump out of planes. In truth, I find the act of dismounting from a bunk bed somewhat unsettling. That's why when I read stories about X-Gamers jumping out of airplanes without effing parachutes on, I am just utterly, hopelessly, incredibly, incensed by it! Via With Leather and stellar LBS commenter, Scott Van Pelt Style, we have the story of motocross biker Travis Pastrana, who did just what I described above.
On Wednesday, September 26, Pastrana hopped a flight from his home in Davidsonville, MD, to Arecibo, Puerto Rico, to perform a stunt he's been dreaming up for more than a year. The next morning, four members of his group skydived from a single-engine Cessna from 12,500 feet. Pastrana performed his jump wearing only sunglasses, socks and surf trunks while holding a can of Red Bull.

He was not wearing a parachute.

The jump was the latest in a string of stunts the motocross legend is filming for his next video Thrillbillies, the fifth installment in his Travis and the Nitro Circus series.
I join Ufford at WL in calling this guy an A-hole for doing that. Get an effing life, bro. You got people all over the world fighting for their lives on a daily basis, and this guy's sitting there essentially laughing at each one of them in the face. There's no way someone who would pull off such a stunt could actually value life. What an absolute insult to humanity. Willingly putting yourself so close to death? What a joke.