Bills GM Buddy Nix: At Least We're Not as Bad as the Raiders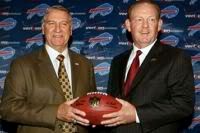 The Buffalo Bills had a well-documented struggle to find a head coach to fill their vacancy that was created after interim coach Perry Fewell was fired. They aimed high but were rebuffed by Mike Shanahan and Bill Cowher, then assistant coaches Brian Schottenheimer and Russ Grimm also turned them. Reports also said that Jim Harbaugh turned the Bills down as well. It's pretty easy to see why Shanahan and Cowher said no — they're in positions of power and they can almost pick the situation they want. Schottenheimer and Grimm probably figured that more appealing opportunities would be available down the line, ditto Jim Harbaugh. Given the dismal state of the offensive line, poor quarterback talent, uncertainty of the franchise's home (there are rumors that the team could move to Los Angeles), it's easy to see why coaches in demand said no. Why would they want to put themselves in a situation where failure is likely?
Even though the perception was that nobody wanted the Bills job, new GM Buddy Nix made it a point to share how desirable the job was. In his news conference introducing new head coach Chan Gailey, Nix said he received around 15 phone calls a day from people eager to coach the Bills, requesting an opportunity to interview. He added that we'd be surprised by some of the names, too. Then came the money shot at the very end of the press conference when he was asked about the Bills job: "Trust me, it's a good job. Don't ever think you can't fill coaching jobs, even if they're bad. Oakland gets a lot of calls. Don't say I said that."
I appreciate Nix's humor but telling me they received 15 calls a day doesn't do much to convince me about the desirability of the job; anyone can preside over a losing season but it takes a good coach to turn around a team like the Bills. Most of the guys who called probably aren't proven, good head coaches. As far as their hire goes, I'm not going to say Chan Gailey can't turn the Bills around and that the Bills are a team that can't win next year — they can. I learned my lesson by watching the Dolpins and Falcons turn-arounds two years ago. I just feel that there aren't many tools in Buffalo and that they need serious quarterback and offensive line upgrades in order to improve. Gailey may have won every year at Georgia Tech but I'm quite unimpressed by his three 7-6 seasons and two 7-5 years especially considering how much better they've been before and after his tenure. He can win in Buffalo, it just won't be easy.