Idiot Kicker Headed to Canada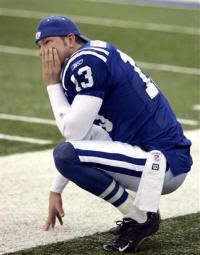 I thought it was a low point for Mike Vanderjagt when he was beat out in a tryout by a minor league kicker. Yeah, a kicker from the arenafootball2 league — the Arena minor league — was better than Vanderjagt. This is the same guy who was a Pro Bowler and like hitting all of his regular season field goals back when he was with the Colts. Now, not so much. So the idiot kicker's trying to revive his career and has decided to go to Canada, signing with the Toronto Argonauts. They're pretty pleased about the move up in Toronto, as is Vanderjagt:
"We got a long-range field-goal kicker, one of the best in this game," general manager Adam Rita said yesterday as Argo veterans reported for medicals at the U of T's Erindale campus. "That was our main motivation. Our job – mine, (assistant GM) Greg Mohns' and coach (Rich) Stubler's – is to try and improve the team the way we see it. We think we've done that.
…
On Sportsnet.ca, Vanderjagt is quoted as saying, "I'm only young once, so I didn't want to look back in 10 years and say to myself that I should have kept playing."
I think Vanderjagt's going to handle the team's punting duties as well, so he should be in for a ball. And the Idiot Kicker better not screw up this time else he'll have hard feelings to deal with. Apparently the Argos had to cut a vet to make it happen, so Vanderjagt better not blow his opportunity. And hopefully the Argos won't have a clutch kick that needs to be made.