Matt Cassel Just Made Himself a Ton of $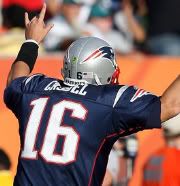 Back at the beginning of the season when Joey Porter was dropping bombs on Matt Cassel, I took Porter's side; Cassel hadn't started since his days at Chatsworth in high school and had no experience. Heck, he had even switched to tight end at USC just to get some PT. And even after spending a few years in the Patriots' system backing up Tom Brady, who thought Cassel turn himself into a winning quarterback in his first year of game action? Certainly not me. But I have been proven wrong.
Now with a solid three months under his belt, Matt Cassel is showing that he can be a legitimate NFL quarterback. Sure he's got better weapons (Randy Moss, Wes Welker) than most quarterbacks in the league, but now he's actually getting them the ball and letting them make him look good. There was a time many starts ago when Cassel couldn't put the pigskin in the hands of his playmakers. Cassel says he has caught up with the speed of the game and that's why things are starting to click. Now with back-to-back 400-yard games and one of the best set of wheels on a QB, Cassel's tearing things up. He's also a free agent this year and set to make some serious cash after proving he can ball at this level.
And to give you an idea of how much money Cassel has made himself in these last two starts, I think of three players: Matt Schaub, Derek Anderson, and Aaron Rodgers. Schaub was a backup in Atlanta to Michael Vick and had one stellar 298 yard, three touchdown performance against the Patriots to his name. The Texans traded for him and gave him a six-year $48 million contract with $7 million in guarantees. As a restricted free agent, Derek Anderson was signed by the Browns to a three-year $26 million deal. He went 10-5 as a starter last year 29 touchdowns, 19 picks, and nearly 3,800 yards. Lastly, I present Aaron Rodgers, who backed up Brett Favre before finally getting a chance to start this year. Rodgers went 4-4 in his first eight starts this year, with 16 total touchdowns and eight turnovers. The Packers signed him to a five-year extension that makes it six years at $65 million. Cassel's gone 7-4 with 15 total touchdowns and 10 turnovers. I'd say he's due for a handsome pay day.