Greatest Quarterbacks of All-Time Don't Throw Pick Sixes to End the Super Bowl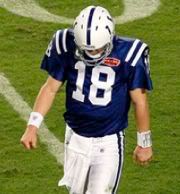 A ton of talk leading up to the Super Bowl was about Peyton Manning's place in history. Many people were starting to talk about him being the best QB of all-time. After he shredded the Jets — the top defense in the league — Rex Ryan and others lavished Peyton with endless praise. People were saying that there wasn't anything you could throw at Manning defensively that he hadn't already seen. People said that Manning prepares better than any other player and that defenses can't confuse him. Many people suggested that he was poised to become the best quarterback of all-time. While I recognize the greatness of Peyton Manning — supreme consistency, excellent stats, an uncanny ability to run the two-minute drill and lead his team to comeback wins — he's only been average (by his standards) in the postseason, and that's a major concern.
In recent years, Manning's Colts have lost in the postseason to the Chargers twice. Previously, they couldn't get past the Patriots when they had to play in Foxborough. There are two undeniable truths to take from those facts: one, Manning's success in the passing game is related to the weather, and two, the Colts have a tendency to lose to inferior teams in the playoffs. Additionally, a problem that plagued Manning early in his career reemerged in the Super Bowl. Peyton used to throw a lot of pick-sixes (28 interceptions his rookie year, 23 his fourth season) and that had a large role in the eventual resignation of Jim Mora as Indy's head coach. It also came back at the most inopportune time for Indianapolis.
I'm not saying Peyton Manning isn't a great quarterback and that I wouldn't love to have him as my franchise's quarterback; that's not the issue. What I'm saying is that the greatest quarterback of all-time doesn't throw a pick six to end his team's chances at winning a Super Bowl. What I'm saying is that Peyton's alleged invincibility does not exist. Apparently defenses can get to Peyton with pressure and apparently they can confuse him with different looks. If that weren't the case, then how did Tracy Porter know the play was coming and how did he bait Manning into that throw? If Peyton Manning is the most well-prepared player in the league, then how is it that extensive film study led Porter to make the game-clinching play over Manning? And I'm sick of hearing people blame Reggie Wayne for the interception; did he make the throw? Did he decide to run a play the defense knew was coming? I thought Peyton Manning was a coach on the field and Indy's offensive coordinator? If that's the case, then he made a bad call. Peyton Manning is an outstanding quarterback but he's still a notch below Tom Brady in my eyes, and possibly on an equal level with Drew Brees now. The greatest quarterback of all-time doesn't make that throw.
By the way, even Tony Dungy admitted on Dan Patrick's show that the throw would hurt Peyton's legacy: "Those are the situations where you expect the great quarterbacks to make the play and to go down and win it. I was sitting there expecting that they were going to go in and tie it up. One throw a lot of times can impact a legacy." No doubt about it.