Randy Moss Over T.O., No Question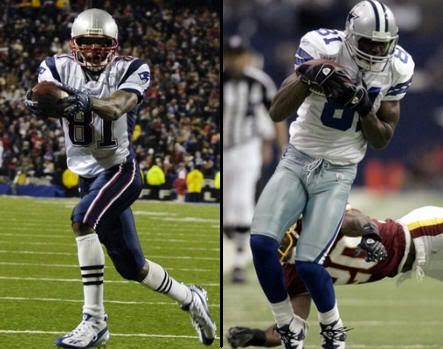 If there was any overarching theme to Week 11 in the NFL, it was the standout performances of Randy Moss and Terrell Owens. Both went well over 100 yards, catching four touchdown passes, surpassing the 1,000 yard mark through 10 games. That's not easy to do. And with Steve Smith and Marvin Harrison sidelined because of injuries, those two receiving stars stood out even more. So naturally, considering how similar their standout performances were, the question must be asked: who's the better receiver, Moss or T.O.?
Obviously I'm a Randy Moss homer. I argued back in April that his acquisition meant a perfect season was imminent for New England, and I've also favorably compared Moss to Jerry Rice. But if you watched both player's games on Sunday to see how they got their numbers, you would have noticed glaring differences. T.O. got his touchdowns because Tony Romo exposed faults in the Redskins zone defense. It's not like Owens showed off great skills with his catches. His TDs were products of poor coverage. Moss' touchdowns on the other hand, had a lot to do with his individual skills. On one, he caught a short slant, and reversed field, breaking a tackle to get to the endzone. On another, it was a short redzone pass where he broke away from one-on-one coverage to make the grab.
Clearly T.O. is a fantastic playmaker, and one of the most physical receivers in the league. But as far as individual skills go for a receiver, it doesn't get any better than Randy Moss. It's really incredible that there are such parallels between their volatile personalities and individual abilities on the field. All I'm saying is watch out Jerry Rice — you're record is about to fall. Next week? Maybe not. In two weeks, you betcha!