Trent Dilfer Hammers the Browns for Decision to Bench Derek Anderson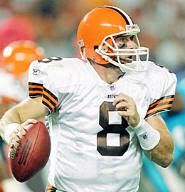 ESPN manages to pack their website full of every video known to man, yet they somehow let Trent Dilfer's verbal assassination of the Cleveland Browns fall through the cracks on Monday. Speaking from the NFL Live set, the one-time Browns QB lashed out on the organization for their decision to bench Derek Anderson and start Brady Quinn at quarterback. Here's what he offered on one of the late SportsCenters:
I understand the stats and I understand the perception that this might be Derek Anderson's fault, but it is wrong. This on so many levels shows the dysfunction of the Cleveland Browns. The first thing is you don't change quarterbacks when you're a bad football team, you change quarterbacks when you're a good football team and your quarterback is holding you back. And more importantly, this is an organization that has proven that the public opinion sways their decision-making — and you can't do that as a National Football League organization. You can't let the public's opinion sway you one way or another, especially big decisions like this. I understand that Brady Quinn's an Ohio kid, I understand that they want to fill the seats, but what's best for the organization is to stick with Derek Anderson — the guy that went to the Pro Bowl for you last year, one of the leaders in the locker room, and just makes you a better football team in the long run.
Florio at PFT saw an early version of this verbal assault on the 6pm ET SportsCenter in which Dilfer also went off and added even more examples of why it's a bad decision. I agree with Dilfer's analysis that Braylon Edwards has let Anderson and the Browns down with his drops, and it hasn't helped that Kellen Winslow hasn't made it onto the field too much this year. At the same time, I thought it was a bad decision to give Anderson a contract extension in the first place. I felt all along that Anderson played well at the beginning of the season last year before teams had film on him and that he only padded his stats against the league's worst defenses. As the season went on, Anderson's yardage totals and completion percentages dropped tremendously, and his interceptions went up. Translation: he became Derek Anderson again. While I think Brady Quinn will be a good quarterback and I think the Browns should have made the change weeks ago, I'm all for any analyst calling an organization "dysfunctional."