Vick Removed From Madden '08 Game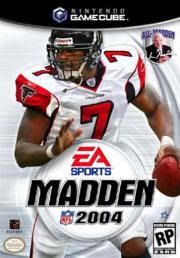 There's nothing that will rob a man of his dignity quite like removing his character from a video game. Particularly when the game in question is John Madden Football. And that's what happened to Michael Vick, a sure sign that things have hit absolute rock bottom.
The most dynamic player in the Madden franchise over the past five years has been removed from the game. Michael Vick, the Falcon's star awaiting sentencing for dog fighting related charges, was removed from the Madden NFL 08 roster update. There has been quite a bit of speculation over the past several weeks as to what EA Sports was going to do with Vick – and the removal has many Madden die hards very happy, and many very upset.
From being on the cover of the game to being removed. You couldn't possibly find more polar opposite conditions. Wow. I've said it before, and I'll say it again, this is truly sad.
All Michael Vick News on LBS:
Ookie Forgets to Buckle Up
Meet Ookie Vick!, Vick Indicted
Back When Vick Was Cool
Say Goodnight to Vick's Pitbulls
Michael Vick's Water Bottle