No Right or Wrong Answer for Brett Favre and Packers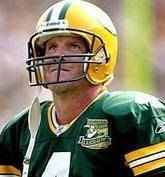 I'm glad I held my tongue on commenting on the Packers/Brett Favre situation until now because I've just watched the entire Favre/Greta Vantriloquist interview and feel I now have both sides of the story. In case you missed it over the weekend, Ted Thompson laid out an entire timeline of events of what transpired between the Packers and Favre, from his point of view. Since it was coming from Thompson, it obviously painted the Packers as patient folks who gave Favre plenty of opportunities to let them know what was going on and makes Favre look like the bad guy for springing his comeback on them. Now that I've heard Vantriloquist's interview, I have a more balanced perspective and I've drawn a conclusion.
My feelings on the Brett Favre/Packers duel is that there is no right or wrong answer and that both parties have been screwed over by matters. I completely understand the Packers wanting to build and prepare for not only this year, but the next few years. That means finding out what Aaron Rodgers can do before the guy's a freaking free agent. How much would it suck from their perspective for Rodgers to never start a game for them and go somewhere else where he becomes a star, or at least a playoff-type quarterback? How much would it suck for them to have wasted a first-round pick on the guy, get nothing, and have Favre really leave after this season? At the same time, Favre is dealing with a tricky situation because he is a veteran who has the skill to keep playing yet his mental desire and drive to play is tested by the taxing nature of the game. I understand why he wouldn't feel 100% committed to the team in March — at that time he probably still felt beat up. But four months later, sure, I could see where the fire would be burning once again. I also got an even stronger feeling that he felt pushed out, much like I said back in April when I predicted Favre's comeback.
Initially I thought Favre was being selfish and holding the team hostage. I still partially believe that's true, but I also feel that he has earned that right, and that the Packers should be able to call an audible late in the offseason like they did last year and make an adjustment. At the same time, it could be in the franchise's best interest to prepare for the future by sticking with Rodgers. It's not often that I am on the fence on an issue, considering I'm pretty opinionated. But this is one where I truly cannot make up my mind because I understand the argument for both sides and I'm honestly 50/50. Yet there is one ultimate conclusion I can draw: this isn't Hollywood, this isn't a movie. There doesn't have to be a storybook ending between the Packers and Brett Favre. He's already had a brilliant career with them and nothing more needs to be said than that, regardless of what transpires over the next few months. Things will work themselves out for the best.