News Flash: John Daly Loves to Party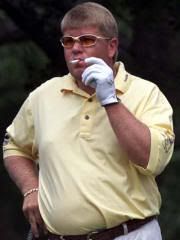 If you remember, John Daly got off one of his legendary quotes recently, saying he doesn't work out because it makes him throw up. The money shot … why work out to throw up when you can drink and throw up just the same? Daly at his finest. Well, this just into the LBS newsdesk, John Daly apparently loves to party. Who knew? And this time it got to be too much for his swing coach, Butch Harmon:
"My whole goal for him was he's got to show me golf is the most important thing in his life," Harmon said from his golf school in Las Vegas. "And the most important thing in his life is getting drunk."
…
"All the guys I work with are working their (tails) off. John didn't have it. I like the kid, but he's got to get his head on straight. The partying and other shenanigans, if that's the way he wants to be, I don't choose to be a part of it."
Tiger's always said he works as hard as he does because he doesn't have Daly's talent. That say enough for you? And the recent shenanigans by Daly included letting Jon Gruden to caddy for him, and then spending the weekend at Hooters after missing the cut. Maybe he just goes there for the food.