Mike and the Mad Dog Done?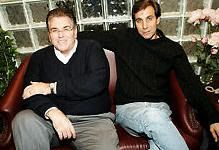 Mike Francesa and Chris Russo have teamed together for their Mike and the Mad Dog show so long, they'd put most married couples to shame. In fact, the two are coming up on their 19th anniversary together on WFAN, the popular sports station in New York. Considering most partnerships, let alone marriages, don't last for 19 years, it's not too surprising to read the report from Newsday that the show could be ending.
Barring a change of heart, the partnership between Mike Francesa and Christopher "Mad Dog" Russo is not expected to survive to see its 19th anniversary Sept. 5, industry sources with knowledge of the situation said.
…
Clearly, though, their relationship is one element in the drama. Several WFAN staffers have observed them feuding off the air in recent months.
…
Russo did confirm strains in the hosts' relationship, saying, "I think we've been going through that," but he added, "I think we've been fine the last couple of months."
Even though I do catch them on YES Network from time to time, I can't say I follow the situation closely enough to really know what may or may not be happening. I do know that it's hard to sustain partnerships in entertainment and it's only a matter of time before many of them fall apart. People want newer, more challenging projects, and they want to prove they can be successful independently. Just the nature of things. I'm not saying their show is done for certain, but I wouldn't be surprised if it were. 18 years is a long time in radio, long time.
(via Ballhype)