Hank Steinbrenner: NL 'Needs to Grow Up and Join 21st Century'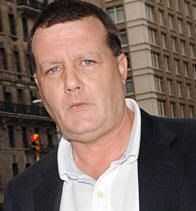 George who? For anyone that was worried the sauciness erupting from the Yankees front office would disappear when George stepped out of the picture, they sure have had their share of relief in the form of Hank who has stepped right in without missing a beat. The guy's not afraid to bash anyone or rip anything, and funny enough, he's got a take on damn near every subject. In essence, he's Curt Schilling without the fastball. And check out the bomb he dropped on over half of MLB in response to Chien-Ming Wang getting injured running the bases in Houston:
"My only message is simple. The National League needs to join the 21st century," Steinbrenner said in Tampa, Fla. "They need to grow up and join the 21st century.

"Am I (mad) about it? Yes," Steinbrenner added. "I've got my pitchers running the bases, and one of them gets hurt. He's going to be out. I don't like that, and it's about time they address it. That was a rule from the 1800s."
As an American League guy, I can't agree with Steiny more. I'm all about the offense. Who the heck wants to watch pitchers bat anyway? If they're that good, the team won't have to use a D.H. anyway. Surely Steinbrenner's outburst is a wholly irrational response to the situation, but it certainly has merit. Gotta love that guy. Is there any wonder why Sporting News has decided to make him a featured writer? Tell us how you really feel next time, Hank.
(via FanHouse)