Ken Griffey Jr.: Sleeping on the Job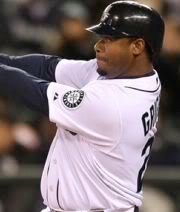 One of the fun parts about sports is that you never know what they're going to have in store for you. One day you can read about the Mariners firing their hitting coach and later that night they're scoring eight runs to win the game. Another day you read about their Hall of Fame DH falling asleep on the job and later … wait, what?!?! I know a baseball clubhouse is sacred, but I've never heard of a player falling asleep on the job until Monday. Check out this report from the Tacoma News Tribune that says Ken Griffey Jr. was sleeping in the clubhouse when asked to pinch hit:
Last week, when some members of the press corps asked manager Don Wakamatsu why he hadn't used Griffey as a pinch hitter for Rob Johnson late in a game, Waskamatsu was vague.

Two Mariners players, however, weren't. Both are younger players, fond of Griffey. Neither had an ax to grind. So why didn't Wakamatsu go to Junior off the bench?

"He was asleep in the clubhouse," one player said. "He'd gone back about the fifth inning to get a jacket and didn't come back. I went back in about the seventh inning – and he was in his chair, sound asleep."

The other player, who knows Griffey a little better, tried to ratonalize.

"He doesn't sleep well at night, he's away from his family, he's comfortable in the clubhouse," he said. "They could have awakened him …"
Yes, they most certainly could have awakened him, but do you really want to send a guy up to pinch hit who was just sleeping in the clubhouse? You need to show more desire than that to earn an at-bat, especially with so many kids in the minors dying for one. Just last week I was talking with LBS contributor Alan Hull about the Mariners' offensive struggles, and we said one of their biggest mistakes was carrying both Mike Sweeney and Ken Griffey Jr. on their roster. They added both guys as clubhouse chemistry boosters, but both are strictly DH's who can't play the field, and neither guy is hitting. There's hardly room for one of those guys on a 25-man roster if you're trying to win a division title, so two is obviously a surplus. Now that this story has hit the media, there may be enough public backlash to solve the situation. It's too bad because I didn't think Junior's Hall of Fame career would end like this. Let's hope things are handled tactfully.
Sources:
For Griffey & the Mariners, the end is near [Tacoma News Tribune]