Jason Caffey: Father of Eight Children to Seven Women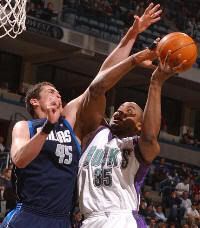 Whenever you have one of those discussions with a friend regarding player salaries, it's always wise to walk in armed with some examples. For instance, my bread-and-butter overpaid baseball contract is always the Rangers dishing $65 million for 22 wins from Chan Ho Park. Trumps every case. After that, I always come strong with my Jason Caffey signing by the Warriors for $35 million in '99 (Caffey averaged 7 points and 4 boards a game during his career). Sure, it's a bit outdated, but it always comes through in the clutch. Well, looks like Caffey might actually have another use for me. He now will happily reside in the Travis Henry/Shawn Kemp discussion.
As I have come to learn, Jason Caffey has fathered eight children from seven different women. That's not quite up to Henry's standards, who has nine over eight, but nonetheless, quite impressive. Caffey had to recently file for bankruptcy to get some of those credit collectors of his back because he can no longer afford to pay all the bills. Some of the women are quick to point out that Caffey was a good father and paid up when he was in the league, but getting bounced from the Association before his contract ended, he didn't make all the cash on his deal. Even if that's the case, I have no sympathy for the man. Bottom line: Don't be a fool, wrap your tool.
And it looks like 100% Injury Rate might have to update that list.
(via Ballhype)