Mike Tyson and Evander Holyfield to Fight for a Third Time?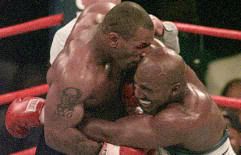 Evander Holyfield recently revealed that Mike Tyson's people have approached him about fighting Iron Mike once again. Call me crazy, call me strange, call me in a Mike Tyson frame of mind, but my ears perk up to the news that Mike Tyson and Evander Holyfield are considering a third fight. The details as told by Holyfield:
"Mike had Jeff Fenech, who's been training him, call me a few months ago. Jeff says Mike wants to fight me again – but he needs to know if I would agree to it. I said, 'It all depends on what they gonna give us – because I'm gonna catch a lot of flak if I say I'm fighting Mike Tyson again. I've already said I don't want to fight Mike no more'. Jeff says, 'What if Mike gets in proper shape?' I told him that's OK but I can't be part of it if Mike's going to pull out. Jeff said, 'The main thing Mike wants to know is if you would be willing to fight him again?' I said, 'Yeah, if the price is right, I probably would'."
That's all I need to hear — if the price is right, Oldfield would do it. There's a shock. A dude who returns to the ring multiple times to fight nobodies when he's over the hill telling us he'd fight for money. Mike Tyson is a trainwreck in our society whose erratic behavior is nearly unparalleled. Who wouldn't want to watch the dude climb back in the ring again against The Real Deal. I'm totally down. Besides, not like Oldfield doesn't have a second ear, right?